Posted on
Sat, Jul 23, 2011 : 2:30 p.m.
Principals of new Ypsilanti Township charter schools enjoying challenge of opening new facilities
By Kyle Feldscher
The principals in charge of the 2 newest charter schools in Ypsilanti Township say they're looking forward to welcoming students and establishing their schools in the community.
Shawn Leonard, the principal of East Arbor Charter Academy, and Matthew Hudson, the principal of Arbor Preparatory High School, are taking charge of the new schools as they prepare for the beginning of the schools' initial year.
Leonard, who's coming to the school after serving as principal of Hamtramck Academy, said getting to be a part of opening East Arbor was a big reason why he decided to take the job.
"There's a lot involved with it. I have in my car a whole binder with a task list about three pages long of things to take care of in order to successful open up a new school," he said.
East Arbor is expected to have 585 students attending in the first year, spread out from kindergarten through sixth grade. The school will eventually house kindergarten through 8th grades. Arbor Prep will have 225 students to start the school, with 175 freshmen and 50 sophomores, but is expected to be up to full capacity of about 800 students once the rest of the classes are added.
Construction at each school is moving along at a rapid pace, with East Arbor having much of the frame of the school completed, and Arbor Prep's structure clear to those who are driving by on Hitchingham and Merritt Roads, where the schools are located.
The schools went into the actual process of being built in early May and are expected to be finished well before school begins after Labor Day in September.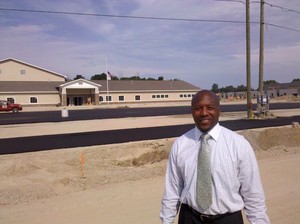 Kyle Feldscher | AnnArbor.com
Each of the new principals said the challenge of opening a school was a major reason why they accepted their jobs.
Hudson, who began work on Monday, said part of the attraction of the job was continuing to work with the South Arbor Charter Academy families he had come to know during his 9 years at the school. Hudson spent two years as a history teacher at South Arbor before becoming an assistant principal for the last 7 years for the school's 7th and 8th grades.
"The fact that the high school is being put up 3 miles from South Arbor Academy was a big draw to me," Hudson said. "I would still be able to service students that I've known and worked with, some families, for 9 years."
Leonard has some experience opening up a new school through National Heritage Academies, the parent company of East Arbor, through his work at Achievement Academy in Canton where he served as a principal-in-residence.
Arbor Prep and East Arbor Academy
Here are some stories on the evolution of Arbor Prep and East Arbor Academy
He said his biggest goal for the first year at East Arbor is establishing a sense of community. Leonard said he has faith in the NHA academic curriculum, but those standards won't mean much without all the school's families and students buying in to the school's philosophy of high achievement.
Leonard said he has been meeting with the staff at the school to find out what teachers are interested in offering as clubs, along with contacting local Girl Scouts and Boy Scouts to bring those organizations into the school.
"Really, the goal this year is to establish the community, get our students and our families embracing East Arbor and NHA, understanding what our values and our expectations are," he said. "From there, once you build that foundation, then the academic piece will come."
As a part of building that community, both schools are finalizing their athletic offerings for the coming school year.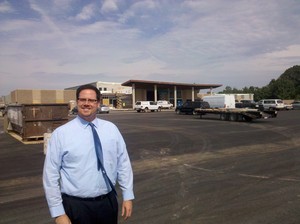 Kyle Feldscher | AnnArbor.com
Each school will offer boys and girls basketball, boys and girls soccer, boys and girls cross country, and girls volleyball. In addition, East Arbor will offer boys flag football and Arbor Prep, which is run by PrepNet and affiliated with NHA, will offer cheerleading. The teams will all compete against other NHA schools in the area, Leonard said.
Hudson said Arbor Prep's goal will be to get students into the best possible colleges and that extracurricular activities will be a major part of that endeavor.
One of the unique programs at Arbor Prep will be the extra elective classes offered after school on Mondays. Hudson said each teacher will be required to offer to teach an elective of their choosing from 3-4 p.m. every Monday. He said a teacher whose subject might be chemistry during the school day might have the opportunity to teach a photography class during this time period, which will be optional for students.
"The one thing that's good is that we are opening, in a sense, small," Hudson said. "We'll only have freshmen and sophomores, so we'll have room to grow as our school grows. There is a sense of urgency to have enough things to have people come, but as the years pass and the population grows and we have 800 kids in the building, we have years to grow our staff and programs."
Both schools are holding events during August to allow students and families to begin meeting each building's staff. East Arbor will hold a Popsicles in the Park event at 1 p.m. Aug. 23 at Heritage Park in Ypsilanti for students to come and meet their teachers. Arbor Prep is still holding information nights, along with planning a Meet the Principal night on Aug. 4 and a Meet the Staff night on Aug. 18 at South Arbor.
The ribbon cutting ceremony for East Arbor is scheduled for 11 a.m. on Aug. 30.
Kyle Feldscher covers K-12 education for AnnArbor.com. He can be reached at kylefeldscher@annarbor.com or you can follow him on Twitter.