Posted on
Tue, Dec 15, 2009 : 6:01 a.m.
Process to replace Washtenaw County Administrator Bob Guenzel begins
By Ryan J. Stanton
A hand-picked team of Washtenaw County commissioners met behind closed doors Monday night to talk about the county's next steps to replace outgoing Administrator Bob Guenzel.
Several names have been tossed around as possibilities for the county's top spot when Guenzel leaves in May. So far, the leading prospects appear to be two longtime servants in county government - Deputy Administrator Verna McDaniel and Bob Tetens, the county's parks and recreation director.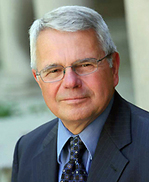 Neither have officially come forward and declared their intentions for the position, but county officials acknowledge both are qualified for the job. That may lead the board of commissioners to look within the organization for Guenzel's successor.
Guenzel announced his retirement a week and a half ago after nearly four decades of service to the county.
County board Chairman Rolland Sizemore Jr., D-5th District, said no decisions have been made yet, but the first meeting of the newly assembled selection process team went well Monday night. The team includes Sizemore and commissioners Conan Smith, D-10th District, and Jessica Ping, R-3rd District, along with Guenzel.
Sizemore said the committee plans to report to the entire board of commissioners in mid-January. Most of what was discussed Monday, he said, was the language for the county administrator's job description.
"We're going to bring everything back to the rest of the commissioners," he said. "We will bring it up and talk to all the commissioners about it and see what everybody wants to do, and we'll have a couple of working sessions where people will come in and interview. It's going to be a good process."
Sizemore said he personally wants to start the search by looking within the organization, where he believes the board can find someone qualified for the job.
"But again, it's going to be a board decision, and it's going to be open to everybody to ask questions and everybody's going to have opinions," he said.
McDaniel has been deputy county administrator since 2007 and has been described by fellow county officials as an "absolute godsend" to the administrator's office. She helped lead the way on efforts to bargain with the county's labor unions this year, which resulted in millions of dollars in concessions being made to help the county close the gap on a major budget deficit for 2010-11.
McDaniel was hired into the county in 1982 and served as director of employment training and community services, as well as human resources director, before taking on her current role. Prior to her service with the county, she was the director of employment training for the city of Ann Arbor from 1976 to 1981.
Tetens, the former supervisor for Dexter Township, has more than 31 years of public service in Washtenaw County, including the last eight and a half years as parks and recreation director. He previously worked in the county administrator's office and planning department and served as executive director of the Urban Area Transportation Study, now known as the Washtenaw Area Transportation Study.
Under Tetens' watch, the county has expanded its total acreage of parkland and preserves from about 1,100 to more than 3,700 in the last decade - a large portion of which came through his management of the Natural Areas Preservation Program.
Ryan J. Stanton covers government for AnnArbor.com. Reach him at ryanstanton@annarbor.com or 734-623-2529.