Posted on
Wed, Oct 13, 2010 : 11:36 a.m.
Progress Michigan says Mark Ouimet should return $35,000 of 'wasted taxpayer money' to county
By Ryan J. Stanton
Lansing-based citizens group Progress Michigan is calling on Washtenaw County Commissioner Mark Ouimet, a Republican from Scio Township, to repay the county more than $35,000 for what the group considers "wasteful and questionable spending."
"Mark Ouimet treats taxpayers like his personal ATM for wasteful taxpayer-funded spending sprees, and he should return every cent of that money to taxpayers where it belongs," David Holtz, Progress Michigan's executive director, said in a statement released Tuesday.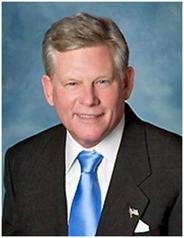 "Mark Ouimet should stop feeding at the public trough," Holtz added. "The only responsible thing left for Mark Ouimet to do is to return the taxpayers' money and apologize for using that money irresponsibly and wastefully."

AnnArbor.com reported on Sunday that Ouimet has collected per diem payments totaling $25,925 for attending 1,037 meetings in his nearly six years as a commissioner. Some county officials believe he billed the county for many meetings that shouldn't have been eligible, including meetings with AnnArbor.com and The Ann Arbor News.
Ouimet also has received mileage reimbursements totaling more than $10,000 since 2005, county records show. That comes in addition to his annual board salary of $15,500.
The Washtenaw County Democratic Party has called for an investigation into Ouimet's expenses. Local attorney Thomas Wieder, who has been investigating Ouimet, said on Tuesday he believes at least $21,000 of the money Ouimet collected violates county rules.
Ouimet, who is running for the 52nd District state House seat, has dismissed the claims against him as "politics as usual." Ouimet is up against Democrat Christine Green in the Nov. 2 election.
Ouimet reiterated on Tuesday he has not intentionally taken money from the county that he is not entitled to, and he encouraged the county clerk to examine his expenses.
"If there's any discrepancy, I would certainly repay it," he said.
Ouimet noted he gives all of the money he collects from the county to charity. Ouimet and his wife are listed publicly as members of the Tocqueville Society, which recognizes individuals who contribute at least $10,000 annually to the United Way of Washtenaw County.
"My wife and I give far more into this community than what I earn at the county," he said.
County records show Ouimet has far outpaced other commissioners in claiming per diem payments. In 2009, all 11 commissioners combined to claim $18,650. Of that, $6,550 went to Ouimet, while the other 10 commissioners averaged $1,210 apiece.
In 2008, the 11 commissioners combined to claim $15,325 in per diems. Ouimet claimed $6,450, or about 42 percent of the total for the entire board that year.
Multiple county officials are now calling for an end to per diems.
County Commissioner Leah Gunn, a Democrat from Ann Arbor, tried to eliminate per diems, mileage and travel money for commissioners last year. The board instead opted for a "flex account" proposal that limited each commissioner's spending at about $3,500 a year. Gunn said she intends to try again to end per diems, mileage and travel money.
County Commissioner Kristin Judge, a Democrat from Pittsfield Township, said on Tuesday she plans to bring a resolution to the county board on Oct. 20 to eliminate pension and health insurance benefits for commissioners. She said commissioners are part-time employees and should not receive such perks.
County officials are planning for a potentially $20 million deficit for 2012 and 2013, about $4 million more than previously thought. With property tax revenues declining and state funding uncertain, adjustments also may be necessary to address a shortfall in 2011.
County Clerk Larry Kestenbaum said Ouimet's case illustrates how much trouble per diems can cause for commissioners. Long after the fact, he said, it can be difficult to prove or disprove that an official took part in some specific meeting or the meeting was eligible for a per diem under the board rules then in force.
"For the umpteenth time in the last 10 years, I call on the board to abolish per diems for salaried officials," he wrote in a statement posted on AnnArbor.com.
Ouimet said Tuesday he would vote in favor of a proposal to do away with them.
"I would agree that we shouldn't be getting the per diems," he said.
Per diems for attending meetings are common in county governments all across Michigan, though they're not typically paid in city governments. Ann Arbor City Council members do not collect per diems for attending meetings, though they are paid a salary.
Ryan J. Stanton covers government and politics for AnnArbor.com. Reach him at ryanstanton@annarbor.com or 734-623-2529.