Posted on
Sun, Oct 10, 2010 : 10:01 a.m.
Republican Mark Ouimet accused of misconduct as 52nd District state House race turns ugly
By Ryan J. Stanton
(Editor's note: This story has been revised to correct information about Mark Oiumet's spending on travel. The story originally stated that Ouimet spent $3,621 attending conventions and meetings outside the area. That information is incorrect and has been removed from the story.)
The gloves are off in the 52nd District state House race, with attack ads, push polls and robo-calls blasting shots at both Democrat Christine Green and Republican Mark Ouimet.
Neither candidate is taking responsibility for the blows being delivered, maintaining that other political forces beyond their control are at work.
But, both sides agree, it's gotten ugly.
The latest attack came Thursday when the Washtenaw County Democratic Party alleged Ouimet, vice chairman of the Washtenaw County Board of Commissioners, has bilked county taxpayers out of thousands of dollars while in office.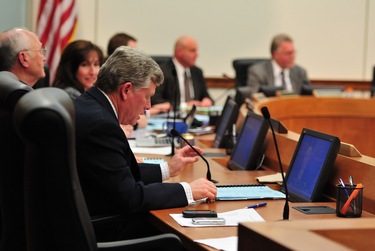 Ryan J. Stanton | AnnArbor.com
Party Chairman Stuart Dowty issued a statement publicly calling for an investigation into more than $35,000 in meeting attendance fees and mileage reimbursements Ouimet has claimed on county expense sheets in his nearly six years as a commissioner.
"There must be a thorough and independent investigation conducted to determine how much Ouimet improperly collected," Dowty said. "It's clearly in the thousands of dollars. It certainly raises serious questions about whether Ouimet is fit for the public position that he presently holds, let alone the bigger one that he's trying to get."
Ouimet defended the expenses and dismissed the Democratic Party's allegations of misconduct as "politics as usual."
"Clearly this is just a political tactic that Christine Green's campaign is doing — that's obvious," Ouimet said. "I've been turning these expenses in for six years. It's never been an issue, and then three and a half weeks before Election Day, it becomes an issue."
Since he became a commissioner in 2005, Ouimet has collected per diem payments totaling $25,925 for attending 1,037 meetings, county records show. He also has received mileage reimbursements totaling more than $10,000 since 2005, records show.
That comes in addition to his annual board salary of $15,500.
The issue first surfaced at Wednesday's county board meeting. Local attorney Thomas Wieder, a supporter of Green who obtained records of Ouimet's expenses through the Freedom of Information Act, presented commissioners with what he believes to be evidence that Ouimet improperly collected payments for his attendance at several meetings not eligible for per diems.
Under county rules, commissioners are entitled to $25 per diem payments for attending meetings of the board and its committees, as well as other authorized county-related boards and committees on which commissioners serve.
A review of county records shows Ouimet submitted for per diems for a wide range of meetings, including a March 2009 sit-down with The Ann Arbor News editorial board. He also claimed a per diem for a meeting with AnnArbor.com in July 2009.
He put in for several per diems for meetings with the county administrator and township officials, as well as for showing up at the annual fallen police officers' memorial, an employee breakfast, a senior center in Chelsea, the American Legion, and what appears to be meetings with an attorney. On some occasions, Ouimet billed the county for per diems as many as four times in one day.
"They weren't meetings of the board, its committees or any of the approved county boards, commissions and committees," Dowty said. "He claimed payments for all sorts of meetings and activities that aren't covered — literally hundreds of meetings of township boards that he doesn't serve on, informal discussions with members of the county staff, even meetings with The Ann Arbor News and AnnArbor.com."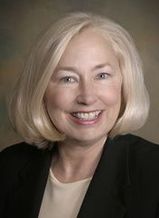 Green said her campaign has nothing to do with the investigation into Ouimet's expenses, though she said she's glad to see the information being made public.
"Certainly it's a concern," she said. "There isn't anything more important to our qualifications for public office than how you use the taxpayers' money. From what I heard, it sounds like a significant amount of money at issue, and it's the public's money."
Mark Boonstra, chairman of the Washtenaw County Republican Committee, said he didn't know the specifics of the allegations against Ouimet, but he doubts they're credible.
"I can't respond to the allegations. Mark's in a position to respond to that," Boonstra said. "But I would highly doubt they have credibility whatsoever. Mark is an honest guy and he's the last one that would be spending monies that are not authorized or are inappropriate."
Commissioner expenses are signed off on by a staff member in the county clerk's office. Ouimet said he'd be happy to have County Clerk Larry Kestenbaum go through his expenses.
"And if there's something that shouldn't be there, I'm more than happy to repay the county," Ouimet said.
Ouimet told the Gongwer News Service in an article published last week that he originally didn't want the county to pay him a dime when he took office, but the county couldn't accommodate that under its accounting system.
Wieder called that "complete nonsense."
"Even if there were some sort of automatic generation of salary checks for all the commissioners, this isn't about salary," Wieder said. "The only way a commissioner gets paid per diems and mileage is by asking for them by submitting a form. If he didn't want to get this money, he wouldn't have received a dime."
Ouimet outpaces other commissioners
County records show Ouimet has far outpaced other commissioners in claiming per diem payments. In 2009, all 11 commissioners combined to claim $18,650. Of that, $6,550 went to Ouimet, while the other 10 commissioners averaged $1,210 apiece.
In 2008, the 11 commissioners combined to claim $15,325 in per diems. Ouimet claimed $6,450, or about 42 percent of the total for the entire board that year.
Ouimet also has charged the county for mileage for commuting to meetings. Records show those payments have amounted to more than $10,000 since 2005.
In 2009, Ouimet received $2,521 in mileage reimbursements, records show.
Democrat Conan Smith spent $5,417 attending conventions and meetings outside the area last year, records show. Smith, chairman of the Ann Arbor Democratic Party, did not submit for any mileage reimbursements.
With the county facing significant budget challenges, commissioners voted on changes to the board's rules in January, placing limits on the amount of money commissioners get for travel and per diems.
Under the new rules, each commissioner is entitled to spend one-eleventh — or about $3,500 — of the board's $39,000 "commissioner flex account." Should they choose not to spend their portion, that gets pooled into a joint account other commissioners can draw from.
Commissioner Kristin Judge, who pushed for the change, said for the first time publicly on Friday that the changes were made partly to put a stop to Ouimet's excessive spending.
"He knew exactly what he was doing," Judge said. "You can only get a per diem for a committee you are assigned to by the board of commissioners. But every time he left the house, he'd charge mileage and per diems. It's thousands and thousands of dollars.
"It's very bad and it's very upsetting," she said.
As part of a transparency initiative Judge pushed for, commissioner expenses now are posted publicly on a new county webpage called Open Book eWashtenaw.
Asked why she never publicly aired her concerns about Ouimet's expenses until now, Judge — a Democrat who is finishing up her first term in office — said she was new to the county board last year and worried about the political ramifications of publicly chastising Ouimet.
Judge, who is supporting Green, denied any political motive.
"Before it was political season, I fixed this a year ago," she said. "This is not politically motivated. This is about spending the taxpayer dollars honestly and wisely."
The changes to the board rules have curbed Ouimet's spending, records show. Through September, he has claimed $1,200 in per diems for attending 48 meetings, which is down significantly from the 250-plus meetings a year he had been billing the county for in the past. His mileage reimbursements also have stayed under $1,500 so far this year, compared to more than $2,500 throughout last year.
Ouimet said one reason his mileage expenses have been higher than others is because his district is one of the largest in the county. It covers all or parts of Lyndon, Sylvan, Lima, Scio and Webster townships, as well as the city of Chelsea and the village of Dexter.
"And I cover more than just my own district," said Ouimet, of Scio Township, adding he often helps out other commissioners in their districts.
Ouimet said he gives all of the money he receives from the county to charity.
Dowty said that still doesn't make Ouimet's actions right. Dowty suggested either County Prosecutor Brian Mackie or the Michigan State Police conduct an investigation to see whether Ouimet's actions rise to the level of criminal misconduct.
Clerk questions per diems
Ouimet encouraged AnnArbor.com to contact Kestenbaum to discuss whether any of the meetings he charged the county for shouldn't have been eligible for per diems.
Kestenbaum said it doesn't look good for Ouimet.
"It looks like there are meetings that he claims for per diems that weren't eligible for per diems," Kestenbaum said Friday, though he called it a "complicated" issue.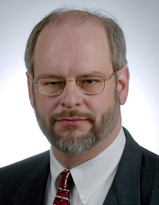 For example, he said, if Ouimet was sent to a township to discuss and negotiate a police services contract on behalf of the county, one could argue that might have been eligible.
"But if he went to a township meeting or met with a reporter on his own, that wouldn't be eligible," Kestenbaum said.
Kestenbaum said the way the county rules were set up before this year, there weren't many internals controls in place. He said the staff member in the county clerk's office who is responsible for signing off on expenses had no authority to tell a commissioner an expense he or she claimed was ineligible.
"What happened for the current year was we were basically asked to vet these things, and so we started doing that," Kestenbaum said. "But prior to that, basically if a commissioner filed for the meeting, we paid it."
Kestenbaum, a Democrat who served on the county board from 2000 to 2002, said per diems are optional for commissioners, and he personally doesn't think they should accept them. He said he stopped accepting per diems himself shortly after he became a commissioner.
"I thought the per diems were a lot of hassle and paperwork, and it didn't seem like they were worth it to me," he said. "And commissioners, I thought, were adequately compensated with their salary. I urged that the per diems be scrapped."
Kestenbaum said per diems come from a time before commissioners were paid a salary, and to keep paying them today is a bit "antiquated." As for Ouimet's situation, Kestenbaum said, it only reinforces his view that commissioners shouldn't get per diems.
Ouimet, whose wife is a medical doctor, is a former bank president and Northwood University chancellor and chief operating officer. As of his last campaign finance report, he had more than $116,000 in cash on hand after contributing $78,000 to his campaign from his own pocket.
As of Green's last campaign finance report, she had more than $38,000 in cash on hand, nearly $25,000 of which was her own money. Green has been a Scio Township trustee since 2008 and is a practicing attorney of more than 25 years.
More attacks from both sides
Ouimet said he's not buying the claim that Green has nothing to do with the Democratic Party's attack on his expense record.
He suspects Green's campaign has turned negative because she's behind in the polls. Ouimet said his internal data shows the 52nd District race tracking closely with the gubernatorial race, in which Republican Rick Snyder has about a 20-point lead over Democrat Virg Bernero.
"When you're behind, this is the behavior you see," Ouimet said.
Green has been the subject of attacks lately, too, and said she finds it hard to believe Ouimet isn't somehow responsible. The Michigan Republican Party recently mailed out a flier that suggested Green was $43,000 behind on paying her taxes.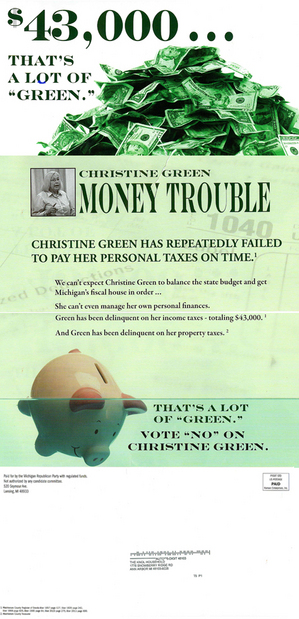 Under the headline "Money Trouble," the ad reads: "Christine Green has repeatedly failed to pay her personal taxes on time. We can't expect Christine Green to balance the state budget and get Michigan's fiscal house in order … She can't even manage her own personal finances."
Those same allegations were made in a push poll last month in which, according to Green, Ouimet's supporters called voters and posed questions that painted Green in a negative light. Green responded by reaching out to Ouimet in a Sept. 24 letter, asking him to put a stop to what she described as "radical and misleading" allegations about a two-decades-old situation.
"Virtually all of the tax liabilities in question arose from my husband Phil Green's law practice in the years 1981 through 1985," she wrote. "For most of that time, I was attending law school, earning little or no income myself, and was not a part of his law practice."
Green said her husband left his Detroit-area law practice and relocated to Ann Arbor in 1980, which required rebuilding the business from scratch. Those were hard times, she said.
"Fortunately, through a lot of hard work and determination, Phil rebuilt his practice, which I later joined," Green wrote to Ouimet. "All of the tax liabilities were paid, and all of the liens were released. The last lien release took place in 1989, more than two decades ago!"
Ouimet maintains his campaign had nothing to do with the attacks on Green.
"On two occasions, I have talked to the Michigan Republican Party about how I'm not pleased that they were doing that," he said. "But these are independent expenditures. I don't know about them until if and when they land, so all I can do is react to them just like Christine."
Ouimet claims Green's supporters were the first to conduct a push poll with a negative spin against him, and that is what he thinks started what's now playing out.
"My campaign is not going to be negative," Ouimet said Thursday. "We're talking about the issues of the state, and the issue of the state is jobs. I don't have anything negative to say about Christine. I think she's a nice person."
Green said she's disappointed.
"This is just my second campaign, and I really thought that we were going to be able to stick to the issues and talk about what I think the people in this county want to hear about," she said. "I am very disappointed it has stooped to this level."
Ryan J. Stanton covers government and politics for AnnArbor.com. Reach him at ryanstanton@annarbor.com or 734-623-2529.