Posted on
Mon, Nov 28, 2011 : 2:57 p.m.
Project manager on Stadium bridges: 'Super-sized jackhammers' will beat 83-year-old spans into pieces
By Ryan J. Stanton
Detour routes diverting traffic from State Street and East Stadium Boulevard are now in effect in Ann Arbor, and crews are preparing to demolish the Stadium bridges.
But what exactly is it going to take to dismantle two 83-year-old bridge spans made of heavy steel and concrete over the next two weeks?
Part of the answer: "Super-sized jackhammers."
Michael Nearing, the city's senior project manager, spoke with AnnArbor.com at the site Monday afternoon as crews were finishing the long process of getting traffic detoured.
In addition to the detours, which started in the morning, crews are installing new sanitary and storm sewers near State Street and Rose Avenue.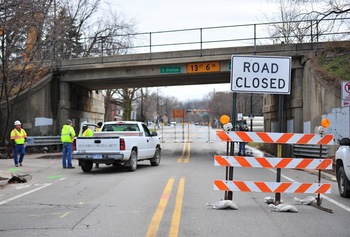 Ryan J. Stanton | AnnArbor.com
If everything goes well, Nearing said, the contractor will start sawing the bridge deck and separate the beams later in the afternoon.
"In order to tear down the bridge, the contractor is going to saw-cut the beams apart," he said. "We're going to lift them up, drag them to the side, haul them off on trucks. They're going to use pneumatic breakers, and they will break the abutments up into pieces."
Nearing explained it in more graphic terms.
"They're just going to take these super-sized jackhammers on the end of a backhoe arm and they're just going to beat it into pieces," he said. "We'll scoop up the pieces, throw them in a truck, and haul them out of there, and away we'll go."
Dan's Excavating Inc. is the general contractor and Parsons Brinkerhoff is the consulting firm the city retained to help with the construction engineering and project management.
Nearing said the demolition stage of the $22.8 million project to reconstruct the bridge spans over State Street and the nearby railroad tracks should last through Dec. 13.
"It's going to take a few days to take the bridge apart, it's going to take a few more days to install the underground utilities — assuming there's no conflicts in the ground — and then we have to put everything back together," he said. "We have to fix and repair State Street and then get it open for traffic. And then again, weather can always intervene."
After Dec. 13, Nearing said, "all kinds of work" related to the project will continue on site throughout the winter.
"We'll be working on building the bridge and doing other work, but State Street will open back up to two lanes — to one lane of traffic in each direction — after Dec. 13, until the spring when we start working on reconstructing Stadium," he said. "And then we'll be doing more underground utility work on the project and we'll start some retaining wall construction."
Nearing said there are no new updates on a possible public art installation the city might pay for as part of the project. He said he met with the Public Art Commission about a month ago and commissioners still were in the investigation phase at the time.
"They mentioned that they would kind of keep me involved somewhat, but at this point in time there are no definite plans," he said.
For more information about the project, including images and detour maps, visit AnnArborBridges.org, or follow the project step by step on Twitter and Facebook.
Previous story: 8 things to remember as the Stadium bridges project starts on Monday
Ryan J. Stanton covers government and politics for AnnArbor.com. Reach him at ryanstanton@annarbor.com or 734-623-2529. You also can follow him on Twitter or subscribe to AnnArbor.com's e-mail newsletters.