Posted on
Mon, Nov 21, 2011 : 12:37 p.m.
John Dingell at Stadium bridges groundbreaking: 'We had to yell twice as loud to get this one'
By Ryan J. Stanton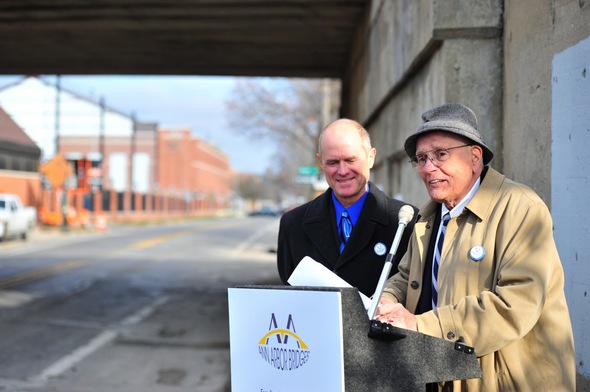 Ryan J. Stanton | AnnArbor.com
With sledgehammers in hand,
Ann Arbor
officials joined U.S. Rep.
John Dingell
today in taking a ceremonial first whack at the Stadium bridges.
The 83-year-old spans over South State Street and the nearby Ann Arbor Railroad tracks will be completely demolished starting next week as part of a $22.8 million project that includes replacing them with new spans and added features for pedestrians and bicyclists.
Dingell, who is given credit for helping Ann Arbor secure a $13.9 million federal TIGER grant for the project, remarked that "Thanksgiving came early this year."
"We all did this," added Dingell, paying tribute to the community support. "We have a peculiar system of government, but believe it or not, it works if everybody pulls together."
Dingell, D-Dearborn, called the condition of the Stadium bridges "terrible," but he also said it was terribly competitive trying to secure federal funding for them.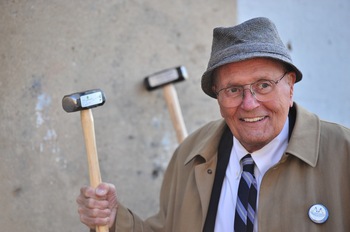 Ryan J. Stanton | AnnArbor.com
He extended special thanks to U.S. Secretary of Transportation Ray LaHood and Deputy Secretary John Porcari. Porcari personally visited Ann Arbor last year to inspect the bridges.
"A lot of people said, 'Well, this is a complete waste of time — he isn't going to do anything,' " Dingell recalled of Porcari's visit. "Well, it turned out he did."
Dingell said the federal funding almost didn't happen.
"This thing nearly cratered," he said. "On one of the days not long before the grant was made, I got a call from the secretary's office, Mr. LaHood, who happens to be an old friend, and he said, 'John, if you don't show some evidence of community support, we're not going to be able to give you the grant.' I said, 'Say no more.' So I started calling people."
Mayor John Hieftje acknowledged the deteriorating condition of the Stadium bridges has been a sore point in the community in recent years. He maintains the city made the right choice to wait for federal funding so not to deplete the city's local streets fund.
He said that's how the Broadway bridges were funded several years ago, and Ann Arbor residents now can expect a project of similar quality along Stadium Boulevard.
"I haven't talked to anyone in town who's ever been over that bridge who doesn't think that project turned out very well," Hieftje said of the Broadway project. "It's a beautiful bridge and we're going to do the same thing here."
Michigan Department of Transportation Director Kirk Steudle and Russell Jorgensen of the Federal Highway Administration both were on hand for today's groundbreaking ceremony.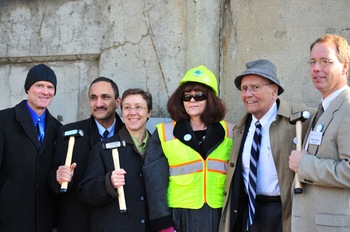 Ryan J. Stanton | AnnArbor.com
Referencing a phrase often used by Gov.
Rick Snyder
, Steudle said it was "relentless positive action" that made the Stadium bridges project happen. He said the replacement of the bridges is vital to commerce and the overall economy in the Ann Arbor area.
"Whoever was in charge of the weather, wonderful," Steudle said of today's 40-degree temperature. "Hopefully that's a great omen of how this project's going to go."
Jorgensen reminded Ann Arbor officials of just how lucky they are to have secured federal funding for the Stadium bridges.
There were two rounds of TIGER grant funding, with about 51 projects selected from more than 1,400 applications across the country in the first round.
"The second time around, there was about half as much money and there were just as many applications," Jorgensen said. "So the fact that this project was one of the 41 capital improvement projects selected from around the whole county out of that list is truly a testament to the congressman, the city and everybody else that backed this project."
Jorgensen noted Ann Arbor also received the 16th highest amount of money of the 41 projects that were selected for funding. He said there's one more round of TIGER grants coming and hopefully Michigan will get its fair share and then some.
"The needs are great and the money is few, but projects that are worthy certainly will rise to the top," Jorgensen said.
At that, Dingell quipped: "We had to yell twice as loud to get this one."
Ryan J. Stanton covers government and politics for AnnArbor.com. Reach him at ryanstanton@annarbor.com or 734-623-2529. You also can follow him on Twitter or subscribe to AnnArbor.com's e-mail newsletters.