Posted on
Thu, Feb 18, 2010 : 5:58 a.m.
Residents react to proposed cell phone ban in Ann Arbor
By Juliana Keeping
Sally Vermaaten doesn't drive but thinks the Ann Arbor City Council is heading in the right direction with its plan to ban motorists from texting or using handheld cell phones while behind the wheel.
"As a pedestrian, I've nearly been run over by several people on their phones as they're trying to turn right," said Vermaaten, a University of Michigan graduate student. "It sounds like it could be a mechanism for deterring people (from situations like those)."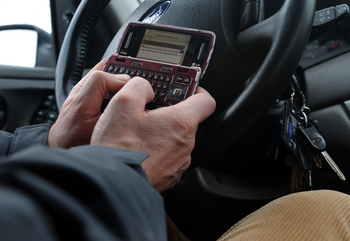 Lon Horwedel | AnnArbor.com
The City Council on Tuesday approved the first reading of a new city ordinance that would impose a $125 fine on people ticketed for using cell phones and similar devices while driving or bicycling. The measure still requires final approval and will come before the council again in March.
"This is a major public safety issue, and I think we've all experienced at one time or another while driving, seeing somebody else who wasn't paying attention because of their cell phone," Council Member Stephen Rapundalo, D-2nd Ward and the sponsor of the bill, said Tuesday.
In addition to chatting on a handheld cell phone or texting, the ban would apply to punching in an address on a global positioning system or using the Internet, among other activities. The ban would not apply to hands-free devices, such as phones with Bluetooth headsets. It would also not be be illegal to use handheld devices during emergencies.
Around town Wednesday, the reaction was mixed.
"I think people can pay attention to what they're doing and talk at the same time," said Greg Grieco, an Ann Arbor resident. "Cell phone use I could probably live with, but texting is out of the question."
Ann Arbor resident Sylvia George said she agrees with the ban - not the fine.
"I think $125 is too steep - you're going to be targeting a lot of kids," George said. "But do I think people should drive while texting? Oh no."
"Talking on the phone is bad, too - especially in a city."
As for using a GPS device? "I don't know how much concentration a GPS takes. I haven't used one," she said.
Ann Arbor resident David Widmayer said the ban fails to address the larger problem: distracted driving.
"Demonizing electronic devices is just one way to create an illusion of safety without actually reducing the number of accidents," he said.
There has been much debate nationally and at the state level on the issue.
A recent study by the Arlington, Va.-based Insurance Institute for Highway Safety has called into question the effectiveness of bans on handheld cell phone use while driving.
The study, released Jan. 29, showed no impact on vehicle accident levels in four U.S. jurisdictions that carry bans on handheld cell phone use while driving, said the organization's spokesperson, Russ Rader.
The study by the Highway Loss Data Institute, an affiliate of the IIHS, compared insurance claims for crash damage in New York, the District of Columbia, Connecticut and California before and after such bans.
"We have found no effect on crashes in those place since they enacted handheld cell phone bans for drivers," Rader said.
"There are still a lot of things we don't know," he said. "But I think the summary of where the research is now, is that clearly, drivers are distracted by phone conversations, and certainly by texting and driving. The question is whether any of these laws are going to be effective at addressing the problem."
The IIHS, a nonprofit funded by automobile insurance agencies to find ways to reduce crashes, has not conducted studies on texting while driving, he said.
On Jan. 12, the nonprofit National Safety Council released a study that blamed 28 percent - or 1.6 million - crashes a year on drivers using cell phones and texting.
The Washington, D.C.-based Governors Highway Safety Association is encouraging states to pass bans on texting while driving instead of bans on talking with a handheld device while driving, given the recent research that questions the effectiveness of those bans.
The organization, a nonprofit that represents the interests of state highway safety agencies, discourages cities from passing their own bans. It counts the Michigan Office of Highway Safety Planning among its members, said Jonathan Adkins, the group's spokesman.
"We don't advocate for cities to pass their own laws," Adkins said. "It's very hard to enforce. You don't have money to do any education or paid media around the law, and typically the laws don't have much impact. It's better to have a state-wide initiative."
A batch of seven bills are circulating the state Legislature that address either texting or talking on cell phones or using electronic devices while driving, said Anne Readett, communications manager at the Michigan Office of Highway and Safety planning.
Currently, six states, the District of Columbia and the Virgin Islands have passed laws prohibiting all drivers from talking on handheld cell phones while driving, and 19 states, the District of Columbia and Guam have passed bans on texting while driving, according to data from the GHSA. A host of local jurisdictions have their own bans on handheld cell phone use and/or texting, while eight states have laws that prohibit local jurisdictions from passing such laws.
Ann Arbor Mayor John Hieftje told the City Council on Tuesday that it shouldn't rely on the state to solve the problem.
"If anyone had the idea of waiting for the state to do something on this, all we have to do is take a look at what happened with smoking," Hieftje said.
Staff reporter Ryan Stanton contributed to this report. Juliana Keeping covers higher education for AnnArbor.com. Reach her at julianakeeping@annarbor.com or 734-623-2528.