Posted on
Wed, May 9, 2012 : 11:51 a.m.
Ann Arbor activists target big banks with protest against Bank of America
By Katrease Stafford
In part of a National Day of Action targeting big banks, activists will protest outside of the Bank of America at 201 South Main St. in Ann Arbor at 4 p.m. today.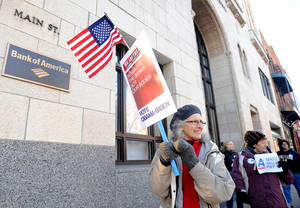 Angela J. Cesere | AnnArbor.com
The demonstration, coordinated locally by
The 99% Spring
and
MoveOn.org,
will show solidarity for activists who are protesting at Bank of America's annual shareholder meeting today at its headquarters in Charlotte, N.C., organizers said.
The activists will feature a "robo-signer," a protester donning a robot costume, to represent what they say is the robotic nature of the bank home foreclosure process.
The protest in Ann Arbor is part of a growing movement calling for fairness. Activists said thousands of Americans are taking to the streets and challenging corporate and political interests they believe have dominated the country.
MoveOn.org organized a similar event last November at the same Ann Arbor branch. At that event, more than 50 people showed up to peacefully protest for a national effort called Bank Transfer Day. Protesters were urging account holders to move their money out of large commercial banks into small banks and credit unions, which are not-for-profit cooperatives owned by members.
"Today's event is part of a massive mobilization of Americans who are fed up with big banks like Bank of America and their horrendous corporate practices," Lee Gebben, a local MoveOn.org member said Wednesday. "We're here to build pressure on the big banks to do more to strengthen, not pillage, the economy. We need an economy that works for everyone, not just the wealthiest 1 percent."