Posted on
Wed, Nov 21, 2012 : 1:30 p.m.
Protesters ask new Ann Arbor City Council member to spearhead resolution to 'boycott Israel'
By Ryan J. Stanton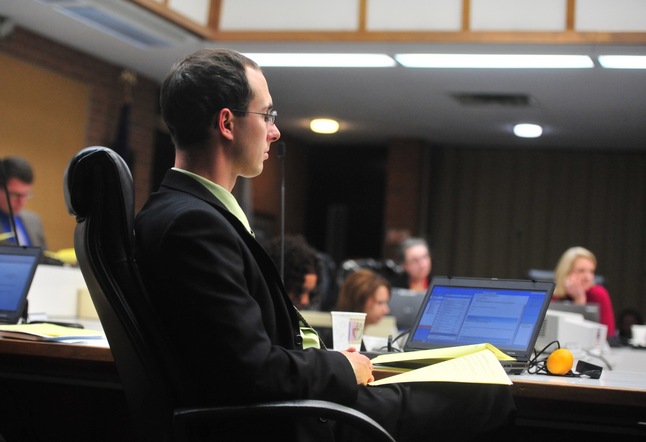 Ryan J. Stanton | AnnArbor.com
A small group of anti-Israel protesters put
Chuck Warpehoski
on the spot Monday night during his first meeting as a member of the Ann Arbor City Council.
Referencing his background as director of the Interfaith Council for Peace and Justice, they called on him to use his new position on council to push for an official city boycott of Israel. They called on him specifically because his nonprofit group already passed a similar resolution.
Speaking during the public comment period at the start of the meeting were frequent protesters Blaine Coleman, Mozhgan Savabieasfahani and Henry Herskovitz.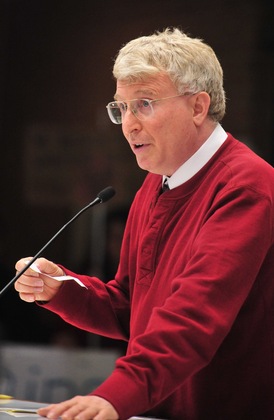 Ryan J. Stanton | AnnArbor.com
They've been appearing before council for years, sometimes carrying large "Boycott Israel" signs that show what appears to be an Israeli military soldier pointing a gun at a Palestinian family. They want the City Council to vote for an Ann Arbor boycott of all products imported from Israel.
"I'm here because I'm hopeful that Mr. Chuck Warpehoski will spearhead a citywide boycott of Israel and stop arming the racist state of Israel, so that it is no longer able to slaughter children," Savabieasfahani said, telling council members she's upset that children are being bombed by the Israeli military and "many thousands of people are mourning the death of their children."
"I'm here because I'm disgusted by this genocide," she said. "I'm here because I know little children who are being blown up into pieces as we speak."
Coleman used more graphic imagery, calling Israel a "Nazi state."
"Tonight as we meet here, Israel is bludgeoning Gaza with unimaginable numbers of weaponry," he said. "One of the most powerful military machines on earth, Israel, the fourth biggest military machine on earth, is bludgeoning a tiny, helpless strip of land called the Gaza strip where people are packed like sardines."
Coleman referenced a resolution adopted by Warpehoski's group in May 2003 that called for "arms divestment and cessation of U.S. military aid to Israel." In the resolution, ICPJ pledged to work with various groups — including the city of Ann Arbor and University of Michigan — to use their influence to encourage the U.S. government to suspend its military aid and arms sales to Israel and to divest from all companies that manufacture or sell arms and other military hardware to Israel.
"Again, I call on the City Council to pass a resolution to boycott the apartheid state of Israel," Coleman said Monday night, suggesting Warpehoski should put the ICPJ resolution into action. "As I've said before, the trillions of dollars the United States has spent on killing Muslims, on killing Arabs, should be spent instead on rebuilding Detroit and rebuilding the inner cities of the United States."
Warpehoski and other city officials did not respond to the protesters during the meeting, but they shared their thoughts with AnnArbor.com during interviews later in the night.
Warpehoski said he doesn't think it's the best use of the City Council's time for the anti-Israel protesters to show up the way they did Monday night, but he said that's their right.
"This is a group that loves to draw attention to themselves and they do it wherever they can. I'm not surprised they're here," he said.
He added, "There is no resolution speaking to their concern on the table, and I have not heard anybody say there is going to be one anytime soon."
Warpehoski said it's true that ICPJ did pass a resolution taking a stand against military spending and military investment in Israel.
"But we're a peace group," he said. "We don't think the U.S. should be giving military arms to any country, so yes, we have concerns about military spending with Israel."
He added, "We also have done extensive lobbying against U.S. military funding of Colombia, which has an atrocious human rights record, and U.S. military funding in Mexico, which has made the drug war even more brutal in that country. We're a peace group. We don't like military funding."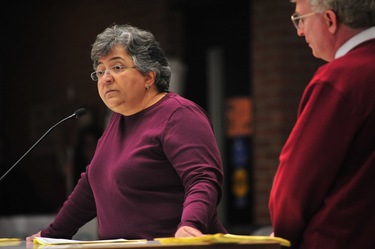 Ryan J. Stanton | AnnArbor.com
Warpehoski said one of the campaign promises he made is that he will not be voting for any resolution that's critical of Israel while harassment of the Beth Israel Congregation in Ann Arbor continues.
He's referring to the synagogue on Washtenaw Avenue that is the site of regular anti-Israel protests on Saturday mornings.
"Hopefully soon that quits," Warpehoski said.
Mayor John Hieftje and Tom Crawford, the city's chief financial officer, said they're not aware of any instances in which the city's dollars might be directly or indirectly supporting the Israeli military, nor did the protesters identify any.
The city has more than $220 million in investments, mostly in U.S. government securities. Crawford said the city's investments are made with returns and risk in mind, but not any social criteria.
Below are two videos of the anti-Israel protesters in action. The first video is from a demonstration Tuesday at U-M. The second is from an appearance before the City Council in 2009.
Ryan J. Stanton covers government and politics for AnnArbor.com. Reach him at ryanstanton@annarbor.com or 734-623-2529. You also can follow him on Twitter or subscribe to AnnArbor.com's email newsletters.