Posted on
Wed, Apr 17, 2013 : 7:40 p.m.
University of Michigan protest: Arrests made at tuition equality rally
By Kellie Woodhouse
Eight protesters were arrested for blocking traffic at the intersection of State Street and South University Avenue in Ann Arbor while rallying for tuition equality Wednesday night.
The protesters demanded that the University of Michigan begin offering in-state tuition rates for unauthorized immigrants that attended high school in Michigan.
About 50 people attended the protest, causing traffic to pile up during the course of the event, which began at 6 p.m. At least four officers told the group —amidst a cacophony of car horns— they had to disperse or risk arrest, but eight protesters remained in the intersection and were arrested by the U-M Police Department.
Seven of the people arrested were students and the remaining arrest was an U-M alumnus.
"It's an issue of fundamental equity, equality and fairness," Antonio Ramirez, a protester and U-M graduate student studying history, said of tuition equality.
U-M police spokeswoman Diane Brown said the majority of those arrested will be processed and released Wednesday night. The arrests were for misdemeanors of disorderly conduct and not complying with police orders for blocking traffic.
"It was an intentional demonstration of civil disobedience," she said.
Some protesters moved out of the way at the first request of police. After being "given another opportunity to comply, eight chose to be arrested," Brown said.
The group also marched outside President Mary Sue Coleman's house, on South University, chanting "education not segregation" and holding signs that read "tuition equally now!"
"It's an amazing sacrifice on their part," U-M freshman Trevor Rolan, said of the protesters who were arrested. "They are [over] 18 and they're willing to have this on their permanent record... It is really exciting that this happened."
Students, supporters and unauthorized Michiganders have been petitioning U-M's elected governing body for about two years, seeking in-state tuition rates for unauthorized youth that grew up in Michigan. Right now unauthorized immigrants must pay out-of-state tuition, regardless of whether they attended high school in Michigan.
The difference in price is more than $26,000. Unauthorized immigrants don't qualify for federal student loans.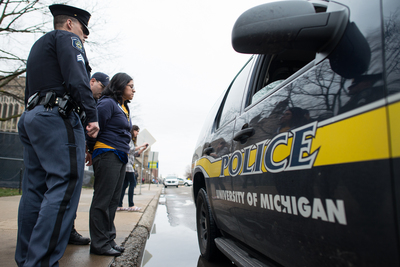 Courtney Sacco I AnnArbor.com
"It doesn't seem right, having grown up here and not being able to attend my state university," said protester Javier Contreras, a Skyline High School senior who says he has lived in Ann Arbor since he was 4 years old. Earlier this month he received his acceptance letter to U-M and, although he says he was "freaking out" from excitement, unless policies change he won't attend.
"It was very bittersweet," he said. "Yes, I got accepted, but I can't go. I can't afford it."
Supporters of tuition equality have rallied on the Diag, staged a sit-in at a Board of Regents meeting and testified before regents, saying current policies put U-M out of financial reach for most unauthorized immigrants that grew up in Michigan.
Throughout the fall and winter a U-M task force compiled a report on tuition equality, benchmarking U-M to other schools and exploring the logistics and legality of such a policy. A group of administrators, including the provost and president, are now reviewing that report and crafting recommendations for the Board of Regents, which have the final say on the matter.
U-M spokesperson Rick Fitzgerald says he does not expect administrators to present recommendations to regents tomorrow at the board's public meeting.
Macomb Community College sophomore Miriam Cuevas said she was accepted to U-M two years ago but did not attend because, as an unauthorized immigrant, it was too expensive. She thanked supporters who protested alongside her.
"Hopefully soon and not too long from now the University of Michigan will also support us," she said.
U-M regent Mark Bernstein, who was elected in November, tweeted Wednesday night that U-M has a "long tradition of student activism" and said he is "proud of this engagement."
Kellie Woodhouse covers higher education for AnnArbor.com. Reach her at kelliewoodhouse@annarbor.com or 734-623-4602 and follow her on twitter.