Posted on
Tue, Dec 8, 2009 : 6:04 a.m.
Ann Arbor City Council votes to reduce funding for public art
By Ryan J. Stanton
Ann Arbor City Council members expressed regret Monday night as they voted to cut back on funding for public art, saying it's indicative of the financial challenges facing the city and one of many touch decisions to be made.
"It is not my favorite thing to do, but I think this is a prudent thing to do now," said Council Member Sandi Smith, D-1st Ward.
A majority of council members supported a proposal brought forward by Smith and Mayor John Hieftje at Monday's meeting to cut back on the level of contributions from 1 percent to a half-percent to the city's Percent for Art Program.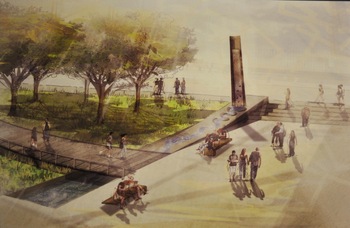 The City Council passed a public art ordinance in 2007 that dictates 1 percent of funds budgeted for city developments and some other infrastructure projects be set aside for public art projects.
By the end of this fiscal year, the public art fund will have accumulated about $1.5 million. The first use of that money being proposed includes a sculpture in front of the new police-courts building next to city hall.
Changes to the art ordinance proposed at Monday's meeting were approved for first reading and now await a public hearing and final approval. The change would reduce the contribution to a half-percent instead for the next three years.
Council Member Margie Teall, D-4th Ward, said if the city's financial situation was different, she'd fight cuts to public art funding. But she agreed it was the right choice for now.
The public art fund has been accumulating money for three years, but has not yet been tapped. The City Council will be asked soon to spend nearly $850,000 from the fund on a water-based sculpture in the lobby and courtyard at the new police-courts building currently under construction at Huron and Fifth Avenue.
Tamara Real, president of the Arts Alliance, a nonprofit organization that supports the arts in Ann Arbor, pleaded with council members at the start of Monday's meeting not to go through with the cutback. Real said city leaders can't take for granted that Ann Arbor will always remain the artsy town it is known as without a small level of investment in public art.
"Wiping out arts funding in no way fills the budget gap," she argued during the public comment period.
Margaret Parker, chairwoman of the Ann Arbor Public Art Commission, stated in an e-mail to AnnArbor.com that setting aside 1 percent of the funding on capital projects built by the city for permanent public art is a method that's been used successfully across the country for the last 30 years.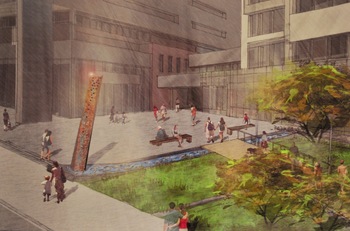 "Other cities in Michigan have made different kinds of investments in the arts to the great benefit of their entire communities," Parker said. "Jackson created a huge redevelopment project around the Armory Arts Village, an artist live-work space that attracts people to move to Jackson from around the country. Grand Rapids just spent close to $1 million on a two-and-a-half week art event, ArtPrize, that brought more than a 1,000 artists from around the world to their city and hundreds of thousands of visitors to their city."
Parker also noted Kalamazoo has an arts building that houses four floors of arts organizations, cafes, studio and practice spaces, and Ypsilanti has plans for an arts incubator where young artists can get their start.
"Ann Arbor can't just sit still and hope to retain its reputation for innovation in the arts. It has to act to move forward," Parker said.
Council Member Sabra Briere, D-1st Ward, agreed the city has millions of dollars to cut from its budget and no guaranteed dollar amount will be saved from reducing the public art percentage.
"When we talk about reducing future allocations by one-half of 1 percent, we're talking about future capital improvements that we haven't decided how much we're spending," she said. "We're not really making a commitment to save a certain dollar amount. We're making a commitment to put aside less for art and we don't know how much less is and that's a really tough decision."
Ann Arbor officials said the belief the city is spending a bunch of money on art that it could use to help the poor or save firefighters' jobs is a myth. If the program was disbanded entirely, the money would have to be returned to the accounts from which they came. And none of the money to date has come from the general fund - contrary to previous statements that $12,500 of the public art fund came from general fund dollars.
Ryan J. Stanton covers government for AnnArbor.com. Reach him at ryanstanton@annarbor.com or 734-623-2529.