Posted on
Tue, Oct 9, 2012 : 2:58 p.m.
Public housing struggles: Lack of air conditioning among problems cited by Ann Arbor Housing Commission
By Ryan J. Stanton
One of the ugly side effects of an extra hot summer in Ann Arbor is that more fights seem to break out around the city's low-income public housing units.
That's what Jennifer Hall, the city's Housing Commission director, told members of the Ann Arbor City Council during a special work session Monday night.
"One of the things I personally am concerned about is we don't have air conditioning in any of our units except our high-rises," Hall said. "When folks are in their residences and it's no relief from the heat, a lot of times people go outside, they congregate in the parking lots, fights start."
Hall provided an update Monday night on the Housing Commission, including where it has made progress in recent months and where struggles remain.
She said it would take $300,000 to $375,000 to provide air conditioning for all units, and she's starting to think that's a major need given how hot this past summer was.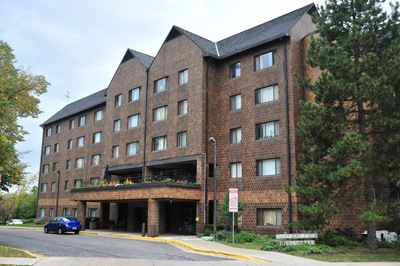 Ryan J. Stanton | AnnArbor.com
"We have so many folks who have health issues, we have a lot of elderly folks, a lot of people with kids and teenagers," she said, calling it both a health issue and a security issue.
"We have a difficult clientele to work with, more so than the private sector," she said.
The Housing Commission manages and maintains more than 350 low-income housing units in Ann Arbor with an estimated $14.5 million-plus in deferred capital needs. It also oversees about 1,400 tenant-based rental vouchers throughout Washtenaw County.
Hall rattled off a list of many items she wished the commission could address, but she said funding is a major challenge. In an ideal world, she said, she'd have $200,000 to $300,000 for security cameras, and another $80,000 to $200,000 a year to hire private security guards.
"Security cameras, we have some at some of our sites — three or four of them — and we just need to add more," she said. "It's something our tenants are asking for."
Council Member Stephen Kunselman, D-3rd Ward, said he doesn't see why the city would put money toward private security instead of hiring more police.
"I would take either one," Hall replied. "We'd love to have more police on our sites. We actually almost had a police officer move into one of our buildings, which is allowed, and it just didn't work out, but we have an open invitation to any police officer that wants to move into one of our buildings."
Hall said some of the Housing Commission's properties need to be demolished and rebuilt at this point because they're functionally obsolete or past their prime, and some are flooding.
Luckily, Hall said, the U.S. Department of Housing and Urban Development, after years of funding cutbacks, recognizes it's not providing enough funding for capital improvements, so it has a new program that the Housing Commission plans to apply for by an Oct. 24 deadline. She said it would preserve public housing by converting units to project-based Section 8 housing.
"We'd get additional new vouchers from HUD, we'd be able to access private capital instead of using public HUD funds, so we'd be able to access things like low-income housing tax credits, FHA loans — all different kinds of funding," Hall said, portraying it as an opportunity to leverage new revenue.
"Basically refinancing and recapitalizing projects by making them not public housing, because public housing can't access those funds," she said. "It's just a different kind of funding source and all of the similar rules are in place. People still pay 30 percent of their income just like they do now."
Hall said some tenants could be eligible to get vouchers one or two years after the conversion, and they could take those vouches and go into the private sector and use it on private housing. She said she had a meeting with public housing tenants and many are excited about that.
If the city gets approved by HUD to go that route, Hall said she'll likely come back to the City Council in January or February to discuss the issue in more detail.
Kunselman said he's not keen on the idea.
"It really is about privatizing public housing and I just don't think that's necessarily the direction that we need to go," he said. "Certainly I'm not going to support turning over ownership of public-owned buildings and properties to a private entity just so they can access additional funding. That would dramatically change the system and it's much more unpredictable."
Council Member Sabra Briere, D-1st Ward, asked Hall to clarify whether the voucher program she's talking about requires privatizing public housing. No matter what happens, Hall said, either the Housing Commission or a nonprofit organization has to be part of the ownership structure.
"You're not selling it off to a private developer to redevelop and then you walk away," Hall said. "We still have to be part of that structure. And so we would still be the staff, we would still be maintaining the buildings, we would still be doing all the work, but the legal entity that owns the building, that would have to change in order to access financing."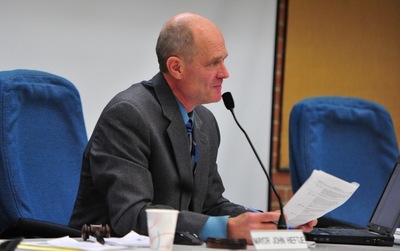 Kunselman, a former liaison to the Housing Commission, said he has a good understanding of the city's public housing and its shortcomings.
"The issues of air conditioning and other things like that — you know, these structures were built not necessarily to be top of the line," he said. "But we do need to make upgrades, and over time I think what we did hear from the director of the Housing Commission is that HUD does recognize they're not providing enough capital money for improvements and this is their investment as well."
Hall painted a more bleak picture, saying there really are only three options: "Stay with what we're doing and keep not having money, stay with what we're doing and have the city pay out of the general fund to pay for improvements, or change the structure."
Mayor John Hieftje said he's encouraged to see Hall pursuing creative solutions to the commission's problems. But he said he can't see the city using general fund dollars to help the commission — it'll just have to keep tackling its issues one at a time.
"But I certainly understand those challenges," he said. "I've seen the chart that shows where federal funding has been going for the last 30 or 40 years and it's not a good direction."
The Housing Commission in recent months has created a preventative maintenance plan and hired a new facilities and maintenance manager, which Hall said has been helpful.
"We went and did duct cleaning of all of our sites," she said, noting all of the gutters have been cleaned and fixed to reduce risk of water damage.
"We fixed all the retaining walls and landscaping," she added. "We ground down all the sidewalks and replaced all the concrete that were trip hazards."
The commission also is about to install so-called "fire stops" above stoves in all high-rise units to prevent kitchen fires. The way it works, Hall said, if a stove catches fire, the device will detect the smoke, open up, and essentially drop a bunch of baking powder to smother the fire.
Roof replacements have been started on several buildings, and the commission is working with the Downtown Development Authority on a roof replacement at Baker Commons.
The commission also is looking at energy efficiency upgrades. So far, Hall said, it has completed about a third of the $900,000 in recommendations from energy audits.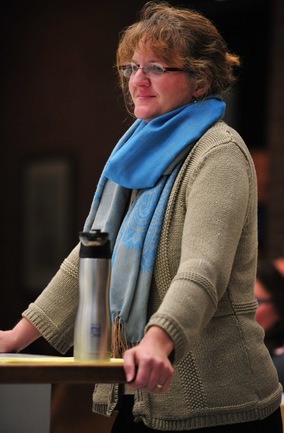 Ryan J. Stanton | AnnArbor.com
The commission also has worked to forge partnerships with the construction management and design programs at Eastern Michigan University to repair and rebuild porches and make new furniture for a staff conference room. It also just received a $6,000 grant from the county's public health department to develop a non-smoking policy, while also partnering with the county to use $100,000 in Community Development Block Grant funding to address flooding problems on some properties.
Hall said the Housing Commission's staff has gone through training to learn how to work with mentally ill tenants and how to deal with crisis.
The commission also hired a new program assistant — a position vacant for more than a year — to handle wait list and leasing duties.
While it used to take more than 100 days on average to turn around a unit between tenants, Hall said, that's now down to 21 days on average, and the goal is to get it down to 14 days.
Hall said those are the kinds of strides that are improving the commission's bottom line. The commission now has about a 99 percent occupancy rate within its units.
Hall said one of her remaining concerns is the commission has the lowest-paid staff in the city and its maintenance technicians and receptionists are able to leave and go work for other city departments, immediately making thousands of dollars more per year.
Ryan J. Stanton covers government and politics for AnnArbor.com. Reach him at ryanstanton@annarbor.com or 734-623-2529. You also can follow him on Twitter or subscribe to AnnArbor.com's email newsletters.