Posted on
Sun, Jan 8, 2012 : 5:59 a.m.
Q&A with Ann Arbor Superintendent Pat Green: 'Accountability, continuity are critical'
By Danielle Arndt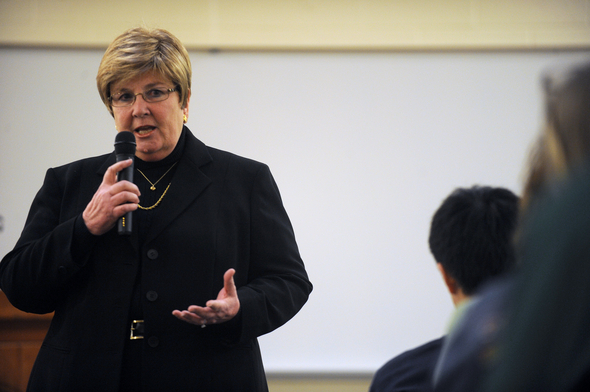 Angela J. Cesere | AnnArbor.com
New Superintendent
Patricia Green
entered the
Ann Arbor Public Schools
system during a time when change seems inevitable.
After cutting about $50 million from its budget during the past five years, Ann Arbor is again facing a $14-million deficit for the 2012-2013 school year.
After that much cutting and slashing, Green said AAPS has reached its "tipping point," where children and community members are beginning to feel the strain as well.
AnnArbor.com recently sat down with Green to discuss her goals, the budget, staffing, public opinion and her impressions of the district so far. Here are excerpts from the conversation:
AnnArbor.com: How would you define the Ann Arbor Public Schools district as a whole?
Green: What caught my eye about Ann Arbor was its emphasis on excellence, its emphasis on diversity, the fact that it had an incredible strategic plan and the fact that the strategic plan was intertwined with a technology plan, too.
Ann Arbor is probably one of the few districts I know of … that actually recognizes there is a gap in achievement, has put forward a tremendous effort and has made many strides in improving the achievement of everybody moving up.
The fact that the district needed to close the gap and made it clear that was a goal, was something very significant to me. I think it's really a sign of a district that knows what it is and where it wants to go when you embrace challenges like that.
It's an excellent district. There is always the concept of good and getting better, and that's what I think the people of Ann Arbor school district want. They know they are very good, but they still want to get better.
AnnArbor.com: You mentioned you felt your background aligned with Ann Arbor and it seems like you had a pretty good idea of what you would be getting into. Did any of your first impressions change? What surprised you most about the district?
Green: Between the time that I interviewed and the time that I came, there were a number of changes that took place — some of which had to do with retirements.
When I came in July, there were people who were no longer here. The deputy for instruction had retired. The assistant superintendent for elementary education had been retired and came in last year on an interim basis, so there was nobody in that position. Mr. (Robert) Allen (deputy superintendent of operations) was here for the first two weeks, I think, and then he was on leave for the rest of the summer.
Initially, that was something back in March I was not expecting, that when I came there wouldn't be the full staff. So I had to do a lot of interviewing during the summer. … It was very difficult to fill some of the positions at that time, so we did spend most of the summer doing that.
One of the things I sensed right away and got involved in right away … are some of the business operations — what do the different departments do and do we have what I call 'job operations manuals.' I found that there weren't any. That said to me there was some work we had to do within the organization.
(In the operations manuals), there are (lists of) functions by person. Because how do we know we're not duplicating services if it's not in writing? How do we know there aren't gaps in services?
There has to be, in my mind, … greater accountability. … There is a template that I developed in terms of goals and objectives that are aligned to each strategy in the strategic plan. Tell me, what is the major goal and the objective of what you are doing and focusing on. How is it aligned to the strategic plan. … If it's not aligned with it, is it an essential operation? Show me how there's evidence of measurability. What are the benchmark dates during which this activity will be taking place? And then I've added to it what I call mid-year formative data and end-of-year summative data, so that we link what we're doing to an accountability measure.
AnnArbor.com: Do you feel the district is lacking that accountability or continuity of goals?
Green: I wouldn't say it's lacking. … What I try to do is focus more strongly and look at things more specifically … and look at efficiency and efficacy in tandem. No. 1: Are we doing the right things and are we doing the right things right? So I wouldn't say anything was lacking.
Some of what I did (at my previous district) was taking a business lens and embedding it into an educational institution. I'm not saying that's all we do, but often times in school districts we look more at the academics and we don't pay attention to some of these other variables and these other factors. Why I did it (looked at increasing accountability) is because that's what I do. And I think that we have to pay attention to those things. It's very essential.
I've had tremendous talk with my staff about it. I gave them a while and a time to reflect because what I said to them was, 'What we put on our goals and objectives has to be measurable, has to be benchmarked and it will be something that I will use in evaluations.'
I think that's very important because if you don't measure what you say you're going to do, how do you really know you've done it? So it has to be measurable.
AnnArbor.com: When you say you're doing that with your staff, is that your upper level staff and then they are doing the same thing within their departments?
Green: I am trying to model for my staff what I expect them to do with the people that report to them. … I've asked them to use the same template or a modified version of it, depending upon the nature of who the people are.
My plan here (in Ann Arbor) is a long-term plan, not a short-term plan. Much of my time so far has been assessing infrastructure … and making some suggestions. I've shared with the board that I feel communications is critical. I feel that consistency is essential. Accountability undergirds everything. And specificity — making sure we are clear and specific about what we're going to do — in a systemic approach. Those are not terms you always hear in education. You might hear them more on a business side, but we cannot, especially in times like we're dealing with right now, negate a business model.
I call it congruence and alignment. Are we congruent and are we aligned in the central offices? And so that's what I've been spending a lot of time on — assessing. Where are we? What are past practices? Where are we going with future practices? And that's not just done out in the schools.
AnnArbor.com: As you are assessing, what are you discovering as far as the staff itself goes? How effective are they? Is the size of the staff, the number of teachers and administrators, appropriate for the number of children enrolled in the district? Do you foresee anything needing to change as far as the staff is concerned?
Green: Five years of cuts, because of the national economy as well as the Michigan economy as well as the way the state funding streams have been structured, take a toll. In a perfect world, my answer would be no, we need more. That would be in terms of teachers in the classroom. That is the most essential part. Technology only enhances what a gifted teacher can do.
When I look back over the past five years of cuts that have taken place here (in Ann Arbor), they really struck home this year. … People really felt it.
I think you have to be careful that … (school districts) don't become a paper house of cards … and become so fragile with such massive budget cuts that it's easy to knock it over and change what has been recognized as something special. And here in Ann Arbor, this is a special school district … and why I am trying to move us into a direction with revenue enhancements, not just cuts.
AnnArbor.com: As you look closely at staffing and the operations manuals you are developing, would you say you are finding more gaps in services than overlaps in services?
Green: This will become something at the end of the year that's more of a finished product than it is now, because (the operations manuals) are not complete. It's something that takes a lot of time. … I can't make total judgments on it at this point in time, but I will at some point when they are finalized.
AnnArbor.com: Do you expect changes in staffing this year or next year? Or when will we feel the results of this?
Green: What I'm hopeful of is the revenue conference coming up in January. … My understanding is, and I think it's going to be Jan. 13 … where the state, governor's office and all the state entities, talk about the projections going forward with revenue. Where are they with where they projected to be? All the signs we are getting are very positive right now, extremely positive right now. And we're keeping our fingers crossed, in relation to your question about staffing, because if you asked me (about) a No. 1 priority … (I would answer) teachers and students in the classroom. … We value all of our employee groups but to make that strategic plan come to life for children and families, it's classroom by classroom.
So, we're hopeful. I'm a guarded optimist. … And until we know what (the revenue) is going to do, we are not going to be able to know the rest of the equation.
AnnArbor.com: The district is currently facing a $14-million budget shortfall. What are your ideas about where that money could come from? What types of cuts or additional revenues would you propose to balance the budget?
Green: One of the things that is not my style is I am not going to say, 'We're going to do this; we're going to do this; we're going to do this.' One of the things that was important to me is that we started the process early. And it was much earlier this year than in the past by having forums to go out and just start talking with people, putting (the suggestion box) up on the website, to start taking the temperature of the community in terms of this whole issue. It's a very significant component at this point in time.
Retirement — we don't know what's going to happen with the retirement piece yet either. If the Legislature does something to equalize it a little bit and we find out what the projections are going to be, that has a bearing too. So before I start talking about anything with cuts, I think we need to find out: What is the revenue going to be?
And the other thing I'm trying to do with the revenue is ... As we start doing some professional development down the line (to close the achievement and discipline gaps)... what I want to do is push some of our stuff out and say, in a broader arena, 'We have some wonderful professional development opportunities, would you like to participate with us?'
That's a revenue enhancement that I don't think is being tapped yet. … We can do that with our legal services. We can do that with our financial services, with our HR services, because we have the talented people and the know-how to do it. And what we need to do is … look differently at how we can also systemically, perhaps, regionalize things. … We can broker things for Ann Arbor in a different way that will not diminish what we do, but that can also bring funds into us.
AnnArbor.com: You mentioned the public. What is going to be the role of the public as you shape your policies? And how do you balance what the public wants with what you want to accomplish in the district?
Green: Looking at the three disproportionately (disciplined) groups — African Americans, economically disadvantaged as well as special needs — I went to key people and said, 'I want to sit with you and talk with you. Please join me. I want to hear your thoughts.' The president of the NAACP (National Association for the Advancement of Colored People), the president of black parents group and the PTOC (Parent-Teacher Organization Council), those different groups said eagerly, 'Yes, we would like to join you in that regard.'
It's a balance between getting their input. … I think you have to listen before you can formulate any kind of a decision that needs to be made.
AnnArbor.com: It seems like the public right now is very critical of school officials and is watching with an eagle's eye everything that goes on in the district. Do you feel that in your position and how much of that criticism is justified, in your opinion? How does it impact what you are trying to accomplish?
Green: I think that anytime you are going to have economic issues that touch people the way the economy has touched people — especially in Michigan, but all across the country — there are criticalities that people are feeling. And you have to be aware, but you still have to make decisions.
I think (you have to have) sensitivities to needs, sensitivities to the fact that we're all people first. I have a job title … and sometimes job titles get in the way of who we are as people first. If we could all be who we are as persons and not live restricted by what a job title or a job description says we do, we can have tremendous influence as people.
"(In education,) we're a people business — and that's children, that's teachers, that's all of our employees, that's consumers in the community. And we have to constantly work with all those kinds of forces and make sure that we're doing the best. These are difficult times, trying times for everybody, and difficult decisions that have to be made."
AnnArbor.com: What is morale like within the district, in the schools?
Green: I think anytime you are looking at five years of cuts, that's a delicate, delicate thing. It's not easy.
But one of my major projects in the works right now is so people don't feel so fragmented. … We've tried to breath life into (the strategic plan) and to make sure that we stay on track with it.
We have great people; we have great citizens; we have great children, all the children; and great employees. And down the road, we're going to make certain that we continue to celebrate what they've achieved and continue to take the district to the next level.
AnnArbor.com: How do you view the building capacity of Ann Arbor Public Schools? Do you think the district will continue to operate in the same format we are all familiar with? Or do you see that changing?
Green: First of all, what I'm trying to do — like I said about alignment and congruence, and efficiency and efficacy, and systemic types of things — the danger in what I'm trying to do and what I'm trying to prevent is there is a tremendous heritage of excellence here and flexibility. And I think we want to safeguard the flexibility, so that you can have an Ann Arbor Open; you can have a trimester (schedule) at Skyline. But (how I see it is,) we are a district of schools and not really a school district. And what I want to do is to maintain the flavor of each of those wonderful schools, but to make sure we are coming under the umbrella of the strategic plan, under our policies, under our procedures so that it's not fragmented.
Over the rest of this year, we're going to talk about a balanced calendar. … We're exploring the capacity with full-day kindergarten. These are not just things you say, 'Well, I recommend.' It has to be based on data.
We are studying bell schedules in terms of what is the best way to offer programs. These are all future issues that you will see and hear evolving.
AnnArbor.com: How would you rate the effectiveness of the school board?
Green: You'd have to talk to the board president. … I cannot get involved with rating a board, that's a question for the board president. But I have tremendous respect for all of our trustees. I have tremendous respect for the work and professionalism of all of our trustees. I think they truly support the strategic plan and want to see it come to life.
Staff reporter Danielle Arndt covers K-12 education for AnnArbor.com. Follow her on Twitter @DanielleArndt or email her at daniellearndt@annarbor.com.