with poll:

Ann Arbor school board member Randy Friedman's residency questioned

Posted on Wed, Nov 18, 2009 : 12:05 p.m.
Update: City records: Ann Arbor school board Treasurer Randy Friedman doesn't have principal residence exemption in Birmingham
Just before the start of the school year, Ann Arbor school board Treasurer Randy Friedman bought a 5,600-square-foot house in Birmingham to cut down his commute between Ann Arbor and the Oakland County private school where his children now attend.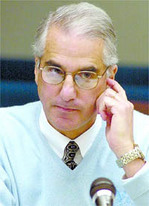 Friedman said the purchase shouldn't disqualify him from serving on the school board since he still owns a home in Ann Arbor. And although some have raised questions about his status in the district, it's unclear who, if anyone, would launch an investigation into Friedman's residency.
Friedman said he asked fellow school board members whether he should resign, and they told him to stay on the board.
"I love Ann Arbor. My home is in Ann Arbor," he said. "I've given a lot of my time and my wife has given a lot of time to help our community. We are not in Birmingham to participate in Birmingham's community life."

School board President Deb Mexicotte, who acts as the board's spokeswoman, said she was aware Friedman's children are at the private school. The school board has not discussed Friedman's status in public meetings or taken a position on his decision to buy a home in another district.
Mexicotte wouldn't comment on Friedman's move to enroll his children elsewhere, other than to say that while parents have to make the best choices for their children, the Ann Arbor school district provides a great education with a great teaching staff.
Friedman's eligibility to serve on the board centers on which home he declares as his primary residence.
At the moment, online public records show both his homes - in Washtenaw and Oakland counties - are listed as his primary residence.
Friedman said that's a mistake.
"Ann Arbor is my primary residence. I never signed any affidavit declaring (the Birmingham house) as my primary residence," Friedman said, adding his lawyer reviewed documents related to the house purchase after AnnArbor.com questioned him.
Friedman said the attorney couldn't find any documents saying Birmingham was his primary residence.
State law mandates school board trustees be eligible voters in the district in which they serve. People are qualified to vote in the district where they claim their primary residence.
A family tradition
Friedman has long ties with Detroit Country Day. This is the first full school year all of Friedman's four school-age children have attended the high-achieving private school in Detroit's suburbs, he said.
Friedman graduated from Country Day; his two oldest sons graduated from there, and he served on its school board for 12 years. He also helped start an alumni fundraising campaign for Country Day.
"We've had a member of our family on the board almost 50 years," he said. "This is a huge tradition with my family. My connection to Country Day isn't new news. When I was appointed to the board (in 2002), the head of Country Day wrote me a letter of recommendation."
His youngest 2 children moved to Country Day last spring, joining their sister, who made the jump from Ann Arbor 2 years ago, and their brother, who started there 3 years ago, Friedman said.
Over the summer, Friedman and his wife, Donna, bought the $1.4 million house in Birmingham.
"We found that the commute between Ann Arbor and Birmingham too hard on (the children)," he said.
Qualified to serve?
Randy Friedman said the fact that his children don't attend Ann Arbor schools shouldn't be a factor in his eligibility to serve on the school board. His term runs through 2011.
"I don't have to have my kids in the district to care for education in Ann Arbor," Friedman said. "I don't think there should be some sort of loyalty test (to serving on the board). I say education is the focal point (of the community). I'm certainly a member of the community."
During his board tenure, Friedman has been an advocate of looking at the social climate at the district's high schools and was influential in recruiting Todd Roberts to become superintendent when George Fornero left.
Friedman said despite his company's offices being in Livonia, he and his wife are active in sponsoring and attending events in Ann Arbor. Friedman is the CEO of Harvard Drug Group.
Still, he said, "We do have 4 small children. Like a lot of parents of small children, we spent a lot of time with them at home or at their school functions."
Friedman declined to say how many nights a week he and his family are in Birmingham and how many they're in Ann Arbor.
He also pointed out the majority of current school board members don't have children in Ann Arbor's schools. Friedman and Mexicotte are the only current school board members with school-age children. Mexicotte's children attend Ann Arbor schools.
Deb Mexicotte said having children in the district isn't a prerequisite to serving on the school board.
"Certainly many school board members don't have children in district, but serve their constituents well," she said, adding choosing a school is a decision parents make based on a variety of factors.
Parent Michelle Rockingham said she understands that, but wonders about the symbolic value of having a school board member sending his children to another school.
"It just looks bad," said Rockingham, who has a son in an Ann Arbor elementary school. "It makes me wonder if he thinks the district does a good job educating students?"
Friedman said he thinks Ann Arbor is doing a good job and wants to help the district continue that.
"I've tried to incorporate policies at the board level that I learned at Country Day," he said. "It was never my intention to leave Ann Arbor. My home is here."