Posted on
Fri, Oct 28, 2011 : 10:18 a.m.
Reader spots Delta jet in trouble over Dexter; free cat adoptions at humane society this weekend
By AnnArbor.com Staff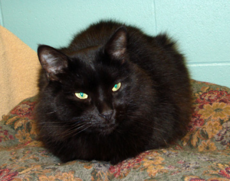 photo by Deb Kern
From a Delta jet in trouble dumping fuel over Dexter to free cat adoptions all of Halloween weekend, here's a roundup of some of the stories posted on AnnArbor.com's Community Wall this week:
By: suzanneb: Low plane circles Dexter Township 10 23 2011
A low and loud passenger airliner repeatedly circled Dexter Township 10 23 2011, with trails of white off of both wings. (See related Annarbor.com article: Did Delta jet dump fuel over Dexter as engine problem forced return to Metro airport?)
By: Mary Anna Kruch: University of Michigan Musical Theater Competition Winners
University of Michigan Musical Theater major Ashley Park has won first place in a Musical Theater Competition sponsored by the National Society of Arts and Letters (NSAL), Michigan Chapter.
By: Deb Kern: FREE Adult Cat Adoptions at the Humane Society of Huron Valley
Overcrowding is still a problem at the Humane Society of Huron Valley. Adoption specials are still running including free adult cat adoptions this weekend.

By: Thomas Rollins: Bethesda Bible Church Tailgates and Treats
By: grye: Comcast service down
By: Arthur H. French: KIRCHWEIH (Harvest Dinner and Dance
By: Kristy Short: Anti-Bullying Crusader, Kristy Short, Answers Request from California Schools to Move Operation Nice Westward
By: U-Meet the Athlete: Youth Tennis Clinic at the University of Michigan
By: Alex: Habitat for Humanity at the University of Michigan's Beat OSU 5k Fun Run
By: Beverly Black: The Ann Arbor Storytellers' Guild presents its 20th Annual Tellabration
By: Southern Michigan Railroad Society: Final Week for Fall Color Tour Train Excursions!
By: Susan: Schools need to address "achievement gap."
By: Nicole Casal Moore: Turning red light blue: Symposium celebrates 50 years of non-linear optics at U-M and beyond
By: CRAZYMAD711: Washtenaw County Officials, Getting Extra Money After Making Deals With Unions
By: Ecumenical Center and International Residence: Global Friendship Program--Join us!
By: Linda: Do not donate if you are disabled!
Arbor.com's Community Wall is a spot for local people to post local stories, news and announcements. To post a story, sign in to AnnArbor.com, then go to www.annarbor.com/community and use the Got News? Tell Us function at the top to submit your news. If you have a photo to add, e-mail it to us at community@annarbor.com and we'll insert it into your story.