Reinvented EcoRide returns to Ann Arbor Sunday after two-year absence
Posted on Sat, Jun 23, 2012 : 5:30 p.m.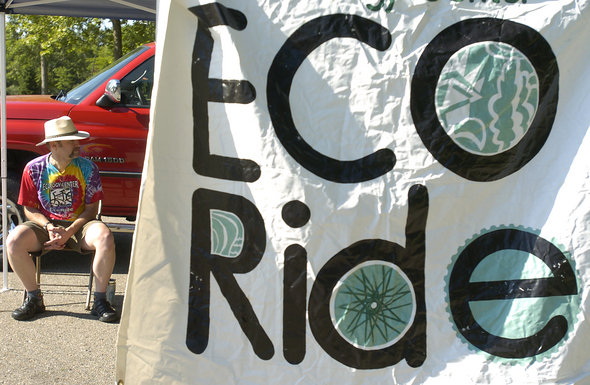 File photo | AnnArbor.com

After a two-year break, the EcoRide returns this Sunday to Ann Arbor.

The EcoRide is hosted by the Ecology Center and offers several cycling routes to a number of tour destinations.

Along each of the routes are opportunities to stop and learn more about local environmental activities - like the hoop house at St. Joseph Mercy Ann Arbor where vegetables are grown for use in hospital meals.

The EcoRide started in 1971. The start location of the ride has varied, moving from downtown Ann Arbor to outside the city limits.

This year, riders will depart from Riverside Park off of Canal Street along the Huron River in Ann Arbor. Departure times vary depending on the route.

"It's exciting to move back to Ann Arbor and make it partially an education event," said Mike Garfield, director of the Ecology Center.

Garfield said he believes the EcoRide is one of the oldest and largest biking events for the environment in Michigan.

"With this location we're able to achieve a lot of objectives we wanted," said Ken Kozora, manager and organizer of the event.

Organizers took a two-year hiatus from hosting the event to develop a better way to get new cyclists involved to add to the group of dedicated participants that return each year.

"We needed to take a breath and take a look at EcoRide to see how it fit into our overall plan and mission," Kozora said. "The ridership was an aging population, and I think this will really bring the young people in."

Cycling routes include:
2-mile family route: 10 a.m. to noon along the Border to Border trail to Argo Park and back.
10-mile St. Joe's tour route: 9 a.m. to 1 p.m. along the Border to Border trail, through Gallup park to St. Joseph Mercy Ann Arbor. Tour available of the hoop house and farm that grows food for the hospital.
10-mile EcoTour: 9 a.m. to 1 p.m. along the Border to Border trail with tours at the Washtenaw Food Hub, Tilian Farm, Leslie Science Center's Project Grow gardens. Guided tours also available from 11 a.m. to 1 p.m. of the solar-powered nature house at the Leslie Science Center
20-mile combined tour: Combination of the St. Joe's and EcoTour
55-mile classic route: Countryside loop ride from Riverside Park to the Water Hill neighborhood to Newport Road and Huron River Drive out to Dexter, Pinckney and through Hell and back
"We're trying to merge the best of the old EcoRide with some new ideas and really highlight a lot of the programs that we do," Kozora said. "We're also trying to reach out to a newer, urban rider."
During the EcoRide, Ann Arbor Mayor John Hieftje and Ypsilanti Mayor Paul Schreiber will ride their bicycles on the Huron River Trail and meet at the hoop house at St. Joseph Mercy Ann Arbor at 10 a.m. Sunday for an informal conference.
In lieu of registration fees for the event, riders are asked to raise pledge donations. Funds raised from the event go to the Ecology Center.
The Ecology Center is a non-profit environmental organization based in Ann Arbor that advocates at the local, state, and national levels for clean production, healthy communities, environmental justice, and a sustainable future.
The Ecology Center staff moved into the top floor of the office building at Liberty and Division streets a year ago.
The space was renovated with environmentally-friendly materials, and several structural elements of the space were re-purposed. The office has achieved a LEED Gold Certification, Garfield said.