Posted on
Tue, Apr 6, 2010 : 3:18 p.m.
Ann Arbor fire victim Renden LeMasters loved family, friends and sports
By Erica Hobbs
Last Friday, Renden LeMasters and his dad played a round of golf.
Robert LeMasters said golf was one of his son's favorite activities, and the two of them enjoyed the day together. But they ran out of time and had to stop playing on the 17th hole. They planned to continue the game later that weekend.
They never got the chance.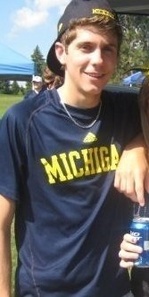 Photo courtesy of the Lemasters family.
Renden LeMasters, 22, died Saturday from injuries he suffered in a
fire
that destroyed his house at 928 S. State St. in
Ann Arbor
and injured two other people.
Robert LeMasters returned to the golf course Sunday and retrieved his son's ball, still in the exact same place he had left it Friday.
"I'm just trying to hold on to small things," he said.
Noticing the small things seemed to be important to Renden LeMasters.
Robert LeMasters said his son always made time to talk to the kids in the Dexter neighborhood where he lived. He was especially attentive to his 15-year-old stepsister, Alex Semifero.
"She really looked up to him," he said. "Especially when her (other) older brothers would tease her."
Long-time friend Aaron McLean said Renden LeMasters was well-liked by practically everyone he met, including teachers, friends and his friends' parents.
"I can remember Renden loved to just drive around town and go visit people," he said in an e-mail. "Renden was loved by everyone and could brighten anyone's day with a simple smile, joke, or even kind words."
Robert LeMasters said his son always loved sports, both watching and participating in them himself. He said Renden LeMasters enjoyed extreme skateboarding as a child before playing soccer at Dexter High School. Brother Ryan LeMasters, now 19, and stepsister Alex Semifero followed in his footsteps and took up the sport.
McLean said he and Renden LeMasters and a few other close friends would gather regularly to watch Detroit and University of Michigan games or play golf. He said the small group of friends stayed close even after graduation and had been through a lot together.
"Our group of friends experienced everything young men could imagine: prom, sports, parties, vacations, and everything that goes a long with being young," he said. "We all went to college but a few of us stayed in the area."
Renden LeMasters was a senior at Eastern Michigan University's College of Technology and hoped to pursue a career in computer science. He worked part-time at the Ann Arbor-based mobile sanitation company, Thetford Corp. in customer service.
Rob Trax, Thetford's director of human resources, said Renden's caring, energetic nature extended to the workplace.
"Renden had an infectious personality," he said. "He liked to learn and liked to help others. He was enjoyed by everybody that he touched."
Renden LeMasters is also survived by his mother, Kimberly LeMasters, and stepmother, Deanna LeMasters, as well as his stepbrother, Jay Semifero, 18.
A funeral for LeMasters will be held at 11 a.m. Friday at St. Joseph Parish, 6805 Mast Road in Dexter. A luncheon will follow at the Knights of Columbus Hall at 8265 Dexter - Chelsea Road in Dexter. Friends may call at the church from 2 to 8 p.m. Thursday.
Those who wish to make a memorial donation may send checks to the Renden D. LeMasters Gift Fund care of PNC Bank, 8123 Main St., Dexter.
Erica Hobbs is a reporter for AnnArbor.com. Reach her at 734 623-2537 or via e-mail at ericahobbs@annarbor.com.