Posted on
Wed, Apr 13, 2011 : 5:56 a.m.
Renovations under way at Ypsilanti's former Cross Street Station with plans for apartments, retail space
By Tom Perkins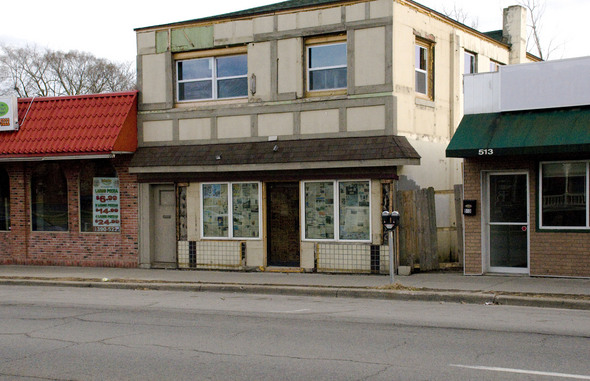 Tom Perkins | For AnnArbor.com
A local developer is breathing new life into the former Cross Street Station in Ypsilanti.
But when it reopens as early as this August, the once-loved bar and music venue at 511 W. Cross St. won't be hosting bands and selling booze.
Instead, its new owner, Sam Shihadeh, is planning four apartments and studios for the second story, and a yet-to-be determined business for the ground level of the 5,000-square-foot building.
Shihadeh said people have come forward with a range of proposals for the commercial space, such as a Subway, a small grocery store, a medical marijuana dispensary and other ideas for a new bar.
Of the scenarios offered so far, Shihadeh said, he's most interested in the small grocery store idea.
But, he added, he's still open to proposals. Because of neighborhood improvement efforts, however, he's searching for a tenant that will add to that mission and "contribute to the neighborhood's ambiance."
Shihadeh said another bar wouldn't meet those standards, and he pointed out that other such businesses don't have an encouraging record of success in the West Cross district.
"I think the area is going through a little bit of a resurgence. It's being cleaned up and a bar doesn't lend itself to that," he said. "And it also doesn't seem to be a successful type of business in that area. Of all (the bars) there, none have been a runaway success."
Shihadeh purchased the building in February 2010 for $25,000. Since then, he said, he and a partner — whom he recently bought out — have completed almost all the work without help.
The roof had collapsed and concerns over the walls in the building, which was built in 1950, required installing trusses. Shihadeh said he wasn't sure when the commercial space would be ready for occupancy, but he wants to get the apartments ready for student rental in August before school starts.
Reinforcing the wall has caused a problem with an Obsolete Property Reduction Act tax abatement application Shihadeh submitted to the state. The OPRA is a type of historic tax exemption, and starting work on the building — even though it was done for the purpose of reinforcing the structure and at the city's request — might cost Shihadeh the credit, which had not been approved at the time of the work. The city is working to resolve the situation, he said.
Shihadeh grew up in Ann Arbor, lived in the Caribbean for several years, and then moved to Southern California. There he opened 23 Little Caesars franchises with his brothers, among other food and beverage-related business ventures.
He moved back to Michigan to take care of his sick mother and first opened a nine-unit apartment building at Hill and Main streets in Ann Arbor. His second project is the West Cross building renovation, and Shihadeh said the experience has been so positive that he's not considering redeveloping buildings anywhere else.
City officials here have been easier to work with and displayed more interest in seeing him succeed than in other cities where he's done business, Shihadeh said.
"At the beginning (the building) was just a hell of a deal," he said. "Now, to tell you the truth, I'm only looking to invest in Ypsilanti."
Shihadeh is one of several developers investing in the West Cross district, and the city is about to begin work on a $1 million streetscape project intended to significantly improve the Cross Street Corridor's image and infrastructure between Eastern Michigan University and the east edge of Depot Town.
The proximity to EMU and the buzz about coming improvements were part of what originally attracted Shihadeh to the neighborhood.
He said he's encouraged by the progress he sees so far.
"I think a lot of the people in the area, a lot of the business owners, feel more confident than they ever have that they are going to get a good return on their investment and that is something that people are really look forward to," he said.
Tom Perkins is a freelance reporter for AnnArbor.com. Reach the news desk at news@annarbor.com or 734-623-2530.