Posted on
Mon, May 10, 2010 : 12:43 p.m.
Rep. John Dingell files for re-election to 15th Congressional District seat
By Cindy Heflin
U.S. Rep. John Dingell, D-Dearborn, filed for re-election today, his campaign announced.
Dingell represents Michigan's 15th Congressional District, which includes Ann Arbor. He is the longest-serving member of Congress. If re-elected in November, Dingell, 83, would begin serving his 28th term.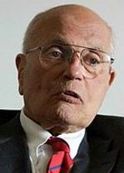 "Now is not the time to walk away. I have the experience and determination to make sure we are doing what we have to do to create jobs and get this economy back on its feet," Dingell said in a press release.
So far, at least three others have announced plans to challenge Dingell.
Superior Township cardiologist Robert L. Steele, who is running as a Republican, announced in February he would take on Dingell.
Ann Arbor resident Jack Lynch, also a Republican, announced in October he would again attempt to unseat Dingell. He made an unsuccessful bid for the seat in 2008.
Dearborn lawyer Majed Moughni has also announced his intention to run as a Republican for Dingell's seat.