Posted on
Thu, Jan 7, 2010 : 6:03 a.m.
Washtenaw County commissioners' retirement benefits, travel expenses talk of annual meeting
By Ryan J. Stanton
The Washtenaw County Board of Commissioners held its first meeting of the year Wednesday night, electing officers to leadership positions for 2010.
Commissioners unanimously chose to keep Rolland Sizemore Jr. as board chairman and Mark Ouimet as vice chairman. Conan Smith remains Ways and Means chairman, and Jessica Ping remains the working session chairwoman.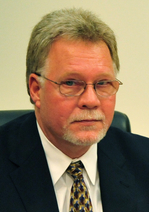 Commissioners also voted on changes to the board's rules and regulations. Changes to how commissioners are compensated for traveling to conferences and conventions generated the most discussion.
From now on, each commissioner will be entitled to spend one-eleventh - or about $3,500 - of the board's "commissioner flex account." Should they choose not to spend their portion, it will be pooled into a joint account other commissioners can draw upon with board approval. Any money remaining at the end of the year will revert to the general fund.
Commissioner Jeff Irwin, D-11th District, said he thought the flex account system was a bit convoluted and didn't send a strong enough message to the public that commissioners are trying to cut their own levels of compensation.
Irwin said he preferred a proposal introduced last year by Commissioner Leah Gunn, D-9th District, to cut commissioner expense accounts across the board and eliminate per diems for meetings. He said he felt that was a clearer way to reduce compensation in light of the county's budget situation.
"It would have been much stronger if we had just said, 'Look, we're cutting travel by 50 percent, we're going to get rid of our per diems and that's going to save $60,000 or $80,000,'" he said. "I thought it would save more money. My feeling was that the budget would be more transparent, more easy for the citizens to understand, and therefore a stronger leadership role for the board to take."
Gunn brought up another proposal Wednesday night that came before the board last November but was tabled then. She suggested the board consider approving a resolution to discontinue commissioner retirement benefits effective Jan. 1, 2011 - a move that could save more than $42,000 per year.
Over the last year, as a result of collective bargaining, the county has transferred nearly all active members from the Money Purchase Pension Plan to the Washtenaw County Employees' Retirement System. In an attempt to further reduce administrative expenses and move toward closure of the MPPP, former participants have been encouraged to withdraw or transfer their assets. The board of commissioners is the only remaining active participants making contributions and receiving employer contributions under the MPPP.
Currently, commissioners contribute 7.5 percent of their salary on a pre-tax basis and receive a 100 percent employer match. Unlike the MPPP's immediate vesting provisions, the WCERS defined benefit plan has an eight-year vesting period. So commissioners - being part-time employees - would need 16 years of continuous service to vest and become eligible for benefits under WCERS.
Also during Wednesday's annual organizational meeting, the board established a timeline for the process to replace retiring County Administrator Bob Guenzel, who will leave his post in May.
Rather than conduct a search, commissioners decided they'll post the job internally on Monday and accept applications from current employees through Jan. 15. The board will consider the applications and conduct interviews at a Jan. 21 working session. Commissioners are expected to take a vote on appointing a new county administrator Feb. 3.
Several names have been tossed around as possibilities for the county's top spot, including Deputy Administrator Verna McDaniel and Bob Tetens, the county's parks and recreation director.
Ryan J. Stanton covers government for AnnArbor.com. Reach him at ryanstanton@annarbor.com or 734-623-2529.