Posted on
Thu, Mar 28, 2013 : 4:31 p.m.
Local Republicans join call for Dave Agema's resignation after anti-gay Facebook post
By Ryan J. Stanton
A group of 21 young Republican activists are calling on Republican National Committeeman David Agema to resign in response to an anti-gay post on his Facebook page.
Among those who signed a statement calling for his resignation are Alicia Rice and Jared Boot of the University of Michigan College Republicans and Alicia Ping, a Republican precinct delegate and Washtenaw County commissioner from Saline.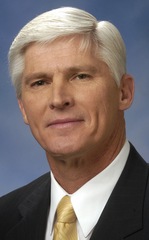 "This isn't about what we believe either politically or as women and men of faith," the statement reads. "This is about common decency and realizing that you cannot win an election by insulting a wide swath of the electorate, whose votes our Republican Party needs to once again form a national majority.
"We do not have confidence in Mr. Agema representing the best interests of our fellow Michigan Republicans and as a result ask him to resign from his seat on the Republican National Committee."
Agema has attracted widespread attention since posting an article on Facebook on Wednesday titled "Everyone Should Know These Statistics on Homosexuals."
Purportedly written by "Frank Joseph, M.D.," it contains a number claims about gay promiscuity, molestation and adverse health effects of being homosexual, including a statement that homosexuals account for half the murders in large cities.
"Depending on the city, 39-59% of homosexuals are infected with intestinal parasites like worms, flukes and amoebae, which is common in filthy third world countries," the article also states, going on to claim "part of the homosexual agenda is to get the public to affirm their filthy lifestyle."
Agema, the state representative from Grandville who sponsored legislation supported by Gov. Rick Snyder that led to Michigan's ban on domestic partner benefits for public employees, stood by his controversial social media posting on Thursday, saying he wouldn't resign and he has no regrets.
According to a Detroit News report, Agema said the article he posted didn't necessarily reflect his own views but was still worth sharing on the same day the U.S. Supreme Court wrapped up two days of oral arguments about the constitutionality of gay marriage.
The anti-gay article that initially caused the controversy was deleted from Agema's Facebook page sometime Wednesday, but among the recent "likes" that still show up on his page is a paper by the Family Research Council on "The Negative Health Effects of Homosexuality."
According to a Gongwer News article, when asked about the reliability of the data he posted on his Facebook page, Agema suggested calling the Family Research Council, which he said had similar information on the negative health effects of being gay.
In addition to calls for his resignation by members of his own party, the Libertarian Party of Michigan went on record Thursday calling Agema's actions unacceptable, sickening and reprehensible.
Ryan J. Stanton covers government and politics for AnnArbor.com. Reach him at ryanstanton@annarbor.com or 734-623-2529. You also can follow him on Twitter or subscribe to AnnArbor.com's email newsletters.