Posted on
Wed, Dec 8, 2010 : 3:40 p.m.
Revenue sharing at risk for Ann Arbor as state officials look to trim budget, consultant says
By Ryan J. Stanton
Michigan lawmakers have difficult budget decisions to make in the upcoming legislative session, and cities like Ann Arbor are "clearly at risk" of losing state aid.
That was the message Kirk Profit, the city's consultant in Lansing, delivered to the Ann Arbor City Council during a brief report Monday night.
"When I appeared before you a year ago now, I was here kind of with my tail between my legs because I had to report to you how you had just lost — much to our chagrin — $1.1 million in revenue sharing that you had to eat," Profit told council members.
Ann Arbor receives about $9.3 million a year from the state in revenue sharing payments — which is down from more than $12 million it used to receive, Profit said.
The city was fortunate there weren't further cuts to revenue sharing this year, Profit said. But he predicts continued challenges ahead under incoming Republican Gov. Rick Snyder and the new Republican-controlled Legislature.
"Of that $9.3 million that you get in revenue sharing, $2 million is what they call statutory revenue sharing, which is clearly at risk," Profit told Ann Arbor officials. "Statutory revenue sharing is one of the items that might be on the chopping block if they actually have to achieve the $1.6 billion in cuts that are necessary to balance the budget."
Despite that message, Ann Arbor officials still are projecting in budget forecasts that revenue sharing will remain flat for the next two years.
Profit said $1.6 billion is a "significant" amount of money for the state to cut from its budget, especially when considering general fund spending right now is about $8.1 billion.
"It's hard to get there," he said of those cuts. "You've got about $2 billion in corrections, you've got close to $2 billion in community colleges and higher ed, you've got $2.5 billion in health care, you've got another chunk in DHS (Department of Human Services), you've got about $400 million in state police. You put all that together and you get to $7 billion pretty quick."
Profit said many legislators consider those areas of the budget "off the table," which puts a lot of pressure on budget items that remain, including school aid and revenue sharing.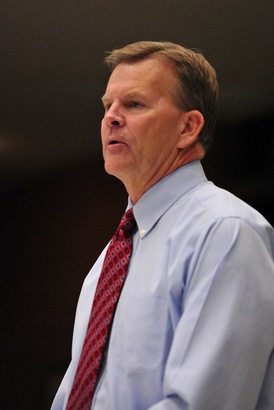 Ryan J. Stanton | AnnArbor.com
On top of that, Profit said, many are demanding business tax reform — not the least of which is elimination of the 23 percent Michigan Business Tax surcharge.
"A lot of folks, including this governor, ran on eliminating (the surcharge)," Profit said. "That's another $500 million. So if that is going to stay true to form, you've got a little over $2 billion that they've got to find in six months."
He called that "an incredible challenge."
Mayor John Hieftje said dozens of municipalities across the state have been considered at risk for bankruptcy. He wonders if state lawmakers fully appreciate the situation cities find themselves in, and if they realize the consequence of continued cuts to revenue sharing.
"I don't think they have a clue, and that's part of our challenge — to educate them," Profit told Hieftje, suggesting it's going to be "even worse" under the new Legislature.
"You've got 61 new legislators in the House, you've got 29 in the Senate, and you get an entire new administrative executive office team," he said.
Profit said he's been in talks with incoming state Treasurer Andy Dillon, who has served as the Democratic speaker of the House. The administration is interested in local government tax reform, and Dillon has some appreciation for the situation cities are in, Profit said.
Profit said he'll continue to advocate on Ann Arbor's behalf to see that the state fully funds fire protection grants. He said the House passed a bill this past session, but Republican Senate Majority Leader Mike Bishop refused to bring the bill to the Senate floor.
Under legislation passed in the 1970s, the state's fire protection fund is supposed to allocate money to help municipalities like Ann Arbor pay for fire services using a formula based on the percentage of tax-exempt property in the city. Ann Arbor, like many communities that are home to public institutions such as the University of Michigan, does not receive anywhere near the amount of state funding the formula calls for — a sore point for city officials.
Profit said "it's pretty unfair" for the state to ask the taxpayers of Ann Arbor to pay for the fire protection services of a large statewide research and education institution.
"We're not going to quit on it," he told Hieftje and council members. "As many of you know, we started from zero after Governor Engler vetoed the entire thing 10 years ago now, and we've brought it back to about 65 percent of full funding."
Profit said he'll also continue to advocate for reform of Public Act 312, a state law that provides for compulsory arbitration of labor disputes in municipal police and fire departments. City officials say the law gives an unfair advantage to the unions in contract negotiations.
The incoming Snyder administration also is "going to get real intense" on state employee compensation, Profit said.
"As a leadership team in Lansing, they believe state employee compensation is too high, and non-competitive with our Midwest states," he said. "This budget's going after state employee compensation, and I suspect there will be ripple effects."
Profit said it was "really disappointing" that the state Senate didn't take action before the most recent session ended to provide matching funds to bring $161 million in federal high-speed rail funding to Michigan. He's confident that will be revisited, though.
Hieftje said local municipalities also are counting on transportation funding reform, or else face further deterioration of local roads and bridges.
"The state of Michigan stands to lose $2 billion if the state can't come up with $400 million for the match," he said. "And that would require a small increase in the gas tax perhaps or another funding mechanism, and that would really help with all of the infrastructure."
Ryan J. Stanton covers government and politics for AnnArbor.com. Reach him at ryanstanton@annarbor.com or 734-623-2529.