Posted on
Wed, Jul 7, 2010 : 5:50 a.m.
Rick Snyder: The comeback of Michigan will be 'small businesses and growing businesses'
By Tom Perkins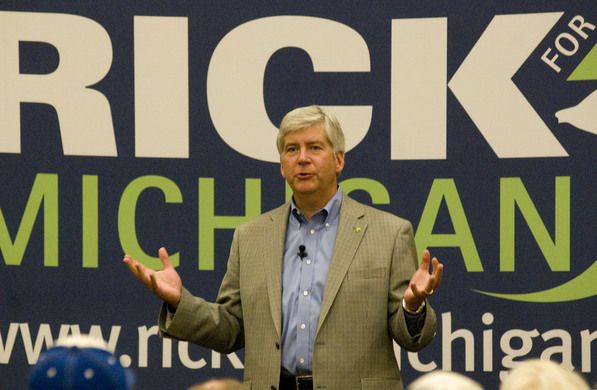 Tom Perkins | For AnnArbor.com
Republican gubernatorial hopeful Rick Snyder laid out his plans for turning around Michigan's struggling economy at a town hall meeting Tuesday.
He told the audience of roughly 150 people at Washtenaw Community College that Lansing is broken, and he - not career politicians - can resolve the issues. Snyder, an Ann Arbor-based venture capitalist, spent six years leading Gateway Computers as its executive vice president and president.
Snyder said Michigan needs to reinvent itself, as it previously did when it moved from a natural resource-based economy to an industrialized state that was "the catalyst to create the middle class."
Snyder discussed parts of a 10-point plan to achieve his goals, with a primary concern of "creating more and better jobs."
He said the government's role is to create an environment in which business can flourish, and called the Michigan Business Tax "simply a job killer." He suggested replacing it with a flat 6-percent corporate tax.
Snyder contends Michigan currently spends too much on incentives to attract out-of-state businesses and needs to focus its energy and resources on fostering homegrown business.
"The state has a broken system of trying to pick winners and losers too often, saying 'This industry is good, this industry is bad,'" he said. "I've been doing venture capital for a lot of years. I've been picking winners an losers for a living. It's hard work. The government isn't competent to do that work.
"The comeback of Michigan is gong to be Michiganders creating small businesses and growing businesses."
He added he believes the state is over-regulating business, and the response time issuing business permits is too slow. He said if the state fails to respond to a permit request within a short time-period, that permit should automatically become valid.
Snyder denied recent allegations that he sent jobs overseas while at Gateway.
"I'm a job creator," he said. "I've created jobs in Michigan and other states, and people are just making that up because they want to keep me out of office. I'm here to keep creating more jobs."
Several audience members asked about ideas for fixing Michigan's financially troubled education system. Snyder pointed out Michigan is among the top 10 to 15 states in per pupil spending, but its achievement levels are in the bottom half.
"We're not getting value for our money on this at all," he said.
He said students should be evaluated beyond standardized testing and suggested they carry a portfolio that travels with them through their educational career. He said that would allow for easier evaluation of educators and the resources needed "at the front lines," ultimately leading to a reduction in overhead.
"I think there are large scale opportunities to get better results at lower costs then we have today," he said.
Snyder painted himself as a centrist running a positive campaign that could be a "poster child" for future campaigns. A pro-choice audience member told him she had reservations about the Republican Party because of the "radical right" and described herself as a "disaffected Republican."
Snyder replied he was listed as a Republican because of the upcoming primary, but his ideas are varied.
"In my view, I want people to support me because hopefully I'm saying intelligent things that make sense," he said. "If you want to govern right in most organizations you have to bring both parties together, and you need to find some common ground to advance things."
Snyder noted he hasn't taken any money from special interest groups.
"I believe it's absolutely critical to have a governor who says 'I have no baggage, no special interest, I'm here to represent all the people of Michigan,'" he said.
Another of the 10 points Snyder highlighted was the necessity of revitalizing Michigan's urban centers, particularly Detroit. He said Michigan's health is tied to the city's well-being, and vice-versa, and he would establish a strong partnership between the two governments.
Snyder said Detroit has suffered from an inability to implement and execute the good ideas various groups have presented for its rehabilitation. But he sees a good opportunity with the city's current leadership to form the partnership and implement effective change.
Snyder said revitalizing the city's urban centers would help create an environment in which the state's younger residents want to live, reversing their exodus. But he added without more jobs in the cities, Michigan will continue to lose its younger residents.
He also suggested creating mentorship programs to form tighter ties to the community.
"We're losing young people at a very alarming rate," he said.
Snyder's speech and campaign literature were silent on social issues, which he said aren't high on his agenda. He suggested jump-starting the economy will help resolve a lot of social issues.
"You look at the economy today - we lost a million jobs. We need to focus on getting our economy going," he said.
Snyder said he'll continue to hold town hall style meetings and has several television commercials coming out in the final weeks before the Aug. 3 primary.
Tom Perkins is a freelance writer for AnnArbor.com. Reach the news desk at news@annarbor.com or 734-623-2530.