Posted on
Fri, Jul 12, 2013 : 3:09 p.m.
Founder of Rolling Sculpture Car Show displays homemade V8
By Chelsea Hoedl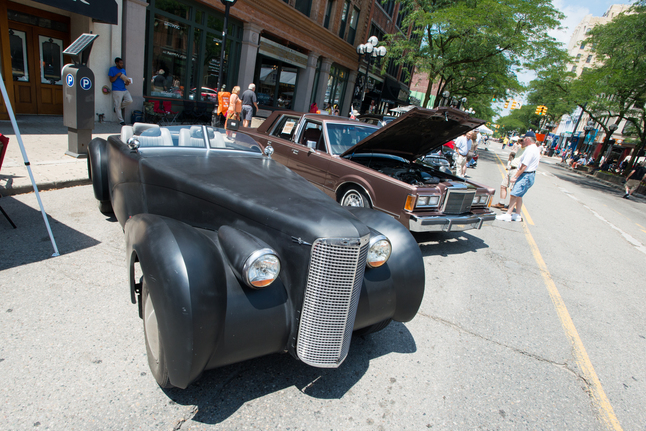 Courtney Sacco | AnnArbor.com
Sitting in the shade on Main Street, an Ann Arbor resident of almost 50 years watches as everything from concept cars to hot rods roll down the closed off street and park to become a part of the 19th annual Rolling Sculpture Car Show.
But Bob Elton isn't your average observer of the event, which takes place in the heart of downtown Ann Arbor. Elton is the founder of the Rolling Sculpture Car Show and has displayed a car in the event every year since its inception.
"When I first dreamed this thing up, it was going to be a one-time thing," Elton said. "I just find it astonishing and so pleasing to watch this event grow in to what it is now."
The first year of the event was contained to three blocks on Main Street and Elton said he had only expected 65 cars to show up.
"I was worried that there wouldn't be enough cars to show," Elton said. "But 130 showed up and we made room for all of them. I never thought this show would continue on for so long or gain so much interest. Ann Arbor isn't really a car town, but all these people still come out to enjoy the show and that's a great thing."
This year, more than 300 cars — ranging from antique to classic to brand-new — will line Main, Liberty and Washington streets.
Since the Rolling Sculpture Show gained popularity, people have been driving their cars in from across Michigan to be a part of the display. This year, a Mustang was driven in all the way from Connecticut.
"One of the strengths of this show is the diversity of the cars that show up," Elton said. "They come from all over and there's something for everyone."
Elton said one of the most unique things he's seen at the show throughout the years is the Lizard Car, which features plastic lizards glued all over the body of the vehicle.
"I haven't seen the Lizard Car for a few years now," Elton said. "But that took 'sculpture' to a whole new level."
Another favorite of Elton's is the 1925 all-original Chrysler, which has never been restored.
Once very involved in the planning, Elton now leaves the set-up to a the Main Street Area Association.
"It feels good to sit back and enjoy the event," Elton said. "I have my V8 here with me this year, which I built and was completed in June 2012."
Elton points to an all-black car parked just a few feet away from where he sits. I's named 'The V8' and took eight years to build.
"I started with a picture and turned that in to an engineer drawing," Elton said. "At one point I had made a life-size plaster model and now here it is."
The Rolling Sculpture show, which originated in Ann Arbor, has spread to other parts of the country. There is now a Rolling Sculpture Show in Texas brought to Austin by one of the previous Main Street Area Association board members.
"There are shows popping up all over the place that emulate the feel of the Rolling Sculpture Car Show," Elton said. "It's a great thing for the merchants and a fun thing for the people of Ann Arbor to get out and look at every year."