Posted on
Wed, Jan 23, 2013 : 10:49 a.m.
Longtime Peace Neighborhood Center director Rose Martin dies
By Cindy Heflin
Rose Martin, one of the founders of nonprofit Peace Neighborhood Center in Ann Arbor and a driving force behind helping the disadvantaged in the area, died Tuesday.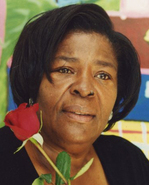 From Facebook
Bonnie Billups, executive director of the center, which serves low-income residents in the Ann Arbor area, said Martin had what appeared to be cardiac arrest while at the Olive Garden in Ann Arbor for lunch on Tuesday.
"We're all saddened by her loss," Billups said. "She's my second mother."
Billups said Olive Garden staff and paramedics unsuccessfully attempted to revive her.
Billups, who called himself Martin's adopted son, said a memorial service would likely be scheduled for this weekend or early next week.
Martin, 70, helped found Peace Neighborhood in 1971 and became its executive director five years later, Billups said. Martin retired from that position in 2006 and founded another nonprofit organization, Rose's Good Company, which provided help for those recently released from prison, as well as homeless people and recovering addicts, among others.
Peace Neighborhood Center posted a tribute to Martin on its website and Facebook page.
"Rose has left behind an overwhelming legacy of love and social justice," the message read. "After helping to found Peace Neighborhood Center in 1971, Rose served as the Executive Director and primary driving force of the organization for over 30 years. Her dedication and commitment to helping those in need throughout the community allowed Peace Neighborhood Center to become what it is today. ... She was not afraid of life's challenges in her pursuit of what was right. One could not accuse her of being a wilting flower. She was one Rose Blooming, a voice of compassion and a hero to a great many individuals throughout Washtenaw County and abroad."
"She was Ann Arbor's version of Mother Teresa in a lot of ways," Billups said. "She would assist people who had the greatest obstacles. She would work diligently to help people overcome those obstacles and find success."