Posted on
Thu, Oct 13, 2011 : 2:59 p.m.
U-M's medical research institute reaches milestone
By Juliana Keeping
The roster of doctor-scientists whose "high-risk, high reward" research is funded by billionaire mall mogul A. Alfred Taubman has grown to 16 at the University of Michigan.
It's a milestone that is helping the institute fight a common research pitfall: The fact that discoveries made in the lab often stay there, says Eva Feldman, the director of the four-year-old A. Alfred Taubman Medical Research Institute at the University of Michigan.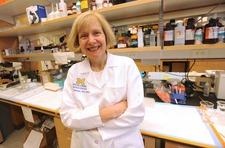 Over the last four years, scientists have launched five clinical trials based on privately funded research conducted by the institute's scientists, Feldman said.
Feldman is leading the first ever human clinical trial of a stem cell treatment for ALS, or Lou Gherig's disease.
"In our basic science labs, we try to understand the cause of disease and develop new treatments and therapies that we can then take over to our patients," said Feldman. "That is the genesis and the core of the Taubman Institute."
Some of the scientists' achievements will be highlighted Friday at the institute's annual symposium at the U-M. Among them is a 700-member clinical trial for the morbidly obese under the direction of Charles Burant, Taubman scholar, professor and the director of the health system's obesity center.
"The belly fat is the most inflammatory organ there is. It really produces a host of hormones," Feldman said. Burant's trial will be looking at the factors that are key to weight loss, and how weight loss changes the body's chemistry.
The institute started in 2007 with a $22 million donation from Pontiac native Alfred Taubman. In April, U-M announced an additional $56 million gift from him, money that helped the institute fund 16 scholars, up from four at the institute's inception.
The trial Feldman designed is being conducted at Emory University in Atlanta, sponsored by the Maryland-based biotech company Neuralstem. The trial involves the injection of neural stem cells into the spines of patients. ALS causes nerve cells to stop working and die, eventually robbing its victims of the ability to breathe, typically within three to five years of the onset of symptoms, according to the Centers for Disease Control and Prevention.
Under federal law, Feldman can't comment on whether or not the results of her safety trial for ALS are positive or negative.
The early news from the trial is encouraging.
A 38-year old ALS patient did weigh in September, telling CNN he had to walk with a cane and had trouble breathing walking to the mail box before entering the trial, but has not had to use a cane and can breathe better since the stem cell injections.
"It's been nothing short of miraculous," Ted Harada told CNN. "I cannot begin to explain the difference it has made."
Juliana Keeping covers general assignment and health and the environment for AnnArbor.com. Reach her at julianakeeping@annarbor.com or 734-623-2528. Follow Juliana Keeping on Twitter