Posted on
Sat, Apr 28, 2012 : 1:40 p.m.
4,000 seniors withstand cold at University of Michigan graduation
By Kellie Woodhouse
It wasn't a victory against rival Ohio State University or a game-winning Hail Mary touchdown that brought some 45,000 people in Michigan Stadium to their feet in cheers Saturday.
It was graduation: theirs, a friend's or a son's or daughter's. It was a day that had been anticipated for at least four years and finally arrived on Saturday morning when roughly 4,000 University of Michigan undergraduates withstood the frigid and windy weather and began a new phase of their lives.
"I just ran into my freshman year roommate and it felt like yesterday," said Zach Salt, a sports manager major. "This week has just been a blur."
Added engineering major Cristina Vresics:
"It's almost like a state of mourning. A happy mourning. We're all going to leaving," she said. "I'm nervous about not having anymore transitional periods. There's no more summers off."
Those who celebrated commencement Saturday compose roughly one-third of the 11,574 individuals who are graduating from U-M this spring, including undergraduates, masters-level degree recipients, Ph.D. candidates and medical and law students.
CNN medical correspondent and neurosurgeon Sanjay Gupta, a U-M alumnus, encouraged graduates to take risks, forge distinctive paths and value friendships and family during his commencement address.
"It's a Michigan tradition to always read the directions but not always follow them," he said.
He added: "Today you might be feeling a little bit scared and you might be kicking yourself for feeling that way, but don't," he continued. "I think being scared is good, and I think the corollary is also true. Never being scared is bad."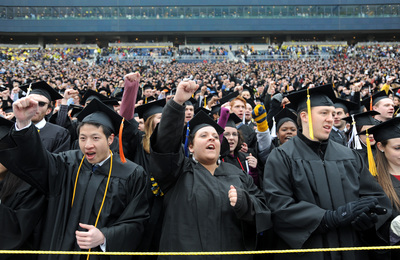 Angela J. Cesere | AnnArbor.com
Communications major Caitlin Smith can relate. She said leaving the familiar setting of college after four years "is a little daunting."
"Because you always hear that college is the best four years of your life," she said.
Smith, Vresics and Salt all have jobs after college. So does graduate Emily Rogoff, who is working New Orleans next year for Teach for America. Although she's delighted to have a job, Rogoff said the responsibility that comes with employment is overwhelming.
"I'm really excited about living in New Orleans, but I'm really, really nervous about what I'm going to be doing," she said. "Every decision I've been making for the past four years has really only impacted me, and now I am going to be in a position where every decision I make will impact 20, 40, 60 students."
For social work major Ann Newberg, it hadn't fully set in that she was leaving U-M. Pointing to her cap, she said: "I feel like I'm playing dress up."
Newberg's plans are less concrete than some of her counterparts.
"It's terrifying," she said of graduating. "I don't know what I'm doing when I graduate. I wish I could stay a little longer."
Of the 2011 graduates of U-M's College of Literature, Sciences and the Arts, 54 percent of students secured jobs before or shortly after graduation and 38 percent chose to continue their education, according to a voluntary response survey.
Philip J. Deloria, LSA associate dean, told graduates that they've "learned more in four dedicated years than you might otherwise have in 20."
"You are uniquely well trained to connect the dots, to built the network, to shape the path that others will follow," Deloria said.
Gupta said students fearful of moving on from college or securing a job should connect with the large network of Michigan alumni throughout the world.
"That's the real world out there. There's all sorts of challenges that people are going to face," he said in an interview. "Use your resources. Talk to the people who were Michigan graduates before you."
Graduate Melissa Walters, who is continuing her education, said that though they may be nervous, she's hopeful most graduates will find that they're prepared to tackle what lies ahead.
"It's always nerve-racking leaving what you know," she said. "But we have been well prepared and we really have grown up lot here."
Kellie Woodhouse covers higher education for AnnArbor.com. Reach her at kelliewoodhouse@annarbor.com or 734-623-4602 and follow her on twitter.