Posted on
Sat, Apr 28, 2012 : 4:51 p.m.
At U-M, Sanjay Gupta speaks of Wolverine pride, Ashley's beer and love for Ann Arbor
By Cindy Heflin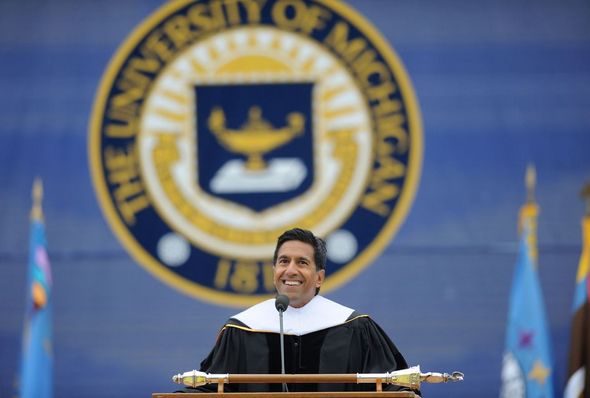 Angela Cesere | AnnArbor.com
Sanjay Gupta, an alumnus of the University of Michigan, talked about his love for the school, its campus and the City of Ann Arbor in delivering the commencement address at graduation ceremonies Saturday.
"Since I left Michigan, you've had three presidents, the first lady and the head of the United Nations as your commencement speakers," he said. "Not bad, but I have something none of them did: I am a true blue Wolverine. I am one of you and I am at home today in front of you."
Gupta, chief medical correspondent for CNN, told a charming story about the day his parents met in Ann Arbor. His mother was a new immigrant in the mid-1960s, he said, and was driving in Ann Arbor when her car broke down. She went to the nearest phone booth and picked out an Indian name starting with A from the phone book to call for help. The person listed was not home, but his roommate was. That man eventually became her husband and Gupta's father.
He told graduates to savor the day and to make each moment count. He referenced well-known Ann Arbor businesses, including Angelo's Restaurant, Stucchi's Ice Cream and Ashley's. "If beer is your thing, drink a real beer at Ashley's, and if I see you out tonight, I'll even buy you one," he said as graduates cheered.
Gupta told graduates to fight injustice and urged them to follow their dreams and not let money guide their decisions. "You know what makes your heart swell; you know what makes your breath catch in your throat; you know what makes your chest tighten with anticipation. Go get that graduates. You deserve that."
You can watch the commencement ceremony via a link on the university's website.