Posted on
Mon, Jan 16, 2012 : 5:57 a.m.
Roundup of Martin Luther King Jr. Day events in Washtenaw County
By Julie Baker
Many organizations are holding community events today in honor of Martin Luther King Jr. Day, so if you're looking for a way to observe the day, here's a roundup of what's offered in Washtenaw County.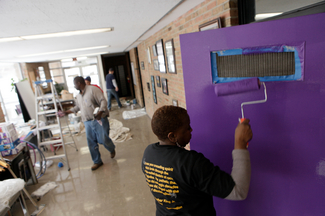 Chris Asadian | AnnArbor.com
The Ann Arbor National Association for the Advancement of Colored People will host an Achievement Gap Forum to bring to light the challenges that have contributed to poor test scores and graduation rates among blacks and to brainstorm a solution.

A panel of experts will lead the discussion, and the film "Beyond the Bricks" will be shown. Monday's event will take place from 2 to 4 p.m. in the Michigan Theatre screening room at 603 E. Liberty St.

Story: NAACP to host MLK Day achievement gap forum with movie, discussion
The University of Michigan's Power Center for the Performing Arts will hold a free concert "Martin Luther King, Jr. Day Celebration Concert - The Call to Sacrificial Service" featured the Chamber Choir at 2 p.m. at 121 Fletcher St. in Ann Arbor. No tickets are required. For information, call 734-763-3333.

Click here to see the AnnArbor.com events calendar entry.
The Ann Arbor District Library will hold a free poetry program for teens and pre-teens from 2-3 p.m. in the multi-purpose room of the Main Branch, 343 S. Fifth Ave., Ann Arbor. Jeff Kass from the Neutral Zone will lead a poetry program on civil rights, equality, peace and justice.

For more information on this event call the Library's Youth Department at 734-327-8301 or visit www.aadl.org. Click here to see the AnnArbor.com events calendar entry.
The Ypsilanti District Library is holding several free events at its Whittaker Road and Michigan Avenue locations. From 1-3 p.m. at 229 W. Michigan Ave., Ypsilanti, hear local musicians Kojo 'Sankofa' and Nehanda Rasheedah Gyan-Apenteng, the founders of Indigenous Groove, a versatile musical group originally from Ghana, play soulful African percussion that will certainly stun anyone's sensibilities. Watch And the Children Shall Lead, a movie set in 1960s Mississippi. Children's crafts will follow. Contact 734-482-4110 for details.

Crafts are offered starting at 5:30 p.m. at 5577 Whittaker Road, Ypsilanti. At 6:30 p.m., the Erickson Excellence Ensemble will perform patriotic and freedom songs. Following that performance, a documentary about Martin Luther King, Jr. will be shown. Contact 734-482-4110 for details.
The One World One Family organization of Chelsea is holding the celebration "Music Makes a Difference: Songs of Protest" at 7 p.m. at the Chelsea District Library.

"We wanted to do something different this year and previous MLK Jr. Day celebrations have been quite elaborate and fantastic," said Jane Ladio, referring to marches and speakers that have been a part of the event.

Read the event preview: One World One Family to celebrate MLK Jr. Day in song
Obama campaign volunteers across Michigan will spend the day out in their communities, working to honor Dr. King's legacy by ensuring that all Americans can make their voices heard in 2012. Volunteer teams in Detroit, Pontiac and Ann Arbor will fan out across the region to register local residents to vote. Locally, this will take place from 1-5 p.m. at the University of Michigan Hatcher Graduate Library, 913 S. University Ave., Ann Arbor.
The University of Michigan Law School is hosting a program called "Dr. King's Vision for Economic Justice: Focus on Detroit," a forum on the future of the city, from 3-5 p.m. in the Robert B. Aikens Commons at the U-M Law School, 625 S. State St., Ann Arbor. The forum will feature Detroit City Council President Charles Pugh, New Detroit CEO Shirley R. Stancato, Excellent Schools Detroit CEO and 1994 Michigan Law grad Dan Varner, and Michigan Chronicle Senior Editor Bankole Thompson.
Natural Area Preservation (NAP) will lead a volunteer event to honor King's legacy by working together to remove invasive shrubs from Bluffs Nature Area. The event is from 1-3 p.m. at Bluffs Nature Area. Volunteers should meet in the parking lot of the Elks Lodge at 220 Sunset Road. Dress in layers appropriate for the weather. Volunteers will be using handsaws to cut down invasive shrubs to help promote native plant populations in the park. NAP will provide tools, work gloves, snacks and directions. Hot beverages will be donated by Starbucks Coffee. This event is suitable for most ages, but all minors are required to have a waiver form signed by an adult in order to participate. Click here for more information.
Know of another event missing from our roundup? Add the details in the comments, or email juliebaker@annarbor.com, and we'll add it to the roundup.