Posted on
Tue, Apr 17, 2012 : 5:58 a.m.
Briere to U-M on new parking plan: 'Please remember that good neighbors work together'
By Ryan J. Stanton
Sabra Briere didn't mince words Monday night as she sounded off on the University of Michigan's renewed plans to build a parking garage near Wall Street.
The 1st Ward Ann Arbor City Council member spoke toward the beginning of the council's regular meeting, voicing disapproval that U-M is once again proposing to build a a multimillion-dollar parking garage in a neighborhood that doesn't welcome the project.
"To those who think that no one lives here and that it's all a wasteland, please remember it's the university that created that wasteland and the university that wants to make it increasingly inhospitable to the residents who live on Wall Street, Maiden Lane, Nielsen Court, Freesia Court, Island Drive and Island Drive Court," Briere said.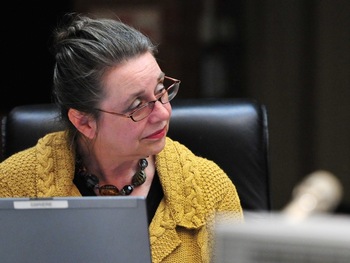 Ryan J. Stanton | AnnArbor.com
Briere said she and others have tried to convince U-M officials for years that a parking structure might be necessary but should be considered at a satellite location instead.
"Some folks look at the barren, parking lot-infested space that is the block between Maiden Lane and Wall Street and say, 'Well, who would want to live there anyway? Go ahead, shove in a parking structure,' " Briere said. "I'd rather have seen a much more serious effort on behalf of the university to improve mass transit. I'd like to have encouraged the university to develop a more aggressive carpooling and alternative transportation set of options for their staff."
Briere also suggested that U-M should try reducing the number of people who feel they need to get into their car without walking or waiting — and give better consideration for the social and environmental impacts that a parking structure will have on the neighborhood.
"And to the regents of the University of Michigan, I ask that they please remember that good neighbors work together," she said, "and that they could just as easily build parking structures at North Campus and the Athletic Campus, creating options for those who choose them, and reduce the number of employees who choose to park and not ride."
Three years ago the university halted plans to build a hotly debated parking garage on Wall Street in favor of constructing a structure on Fuller Road to be completed jointly with the city of Ann Arbor. Yet earlier this year the university and city announced they were scrapping plans for the Fuller Road Station structure due, in part, to an inability to build the garage quickly enough for U-M, which argues it is facing a mounting parking shortage.
As a result, the university has revisited its plans to build a structure in the Lower Town neighborhood. Administrators will seek permission from the U-M Board of Regents Thursday to construct a 700-space, $34 million parking structure on the east side of Wall Street, about one-half mile from University Hospital. The garage would be built atop a 200-space parking lot and thus would add 500 parking spots on campus.
Ryan J. Stanton covers government and politics for AnnArbor.com. Reach him at ryanstanton@annarbor.com or 734-623-2529. You also can follow him on Twitter or subscribe to AnnArbor.com's email newsletters.