Posted on
Thu, Nov 17, 2011 : 4:13 p.m.
Salem Township officials say they are not out to steal Christmas at Three Cedars Farm
By Janet Miller
Salem Township officials say they are not pulling a Grinch on the popular Three Cedars Farm near Northville, in the northeast corner of Washtenaw County.
While the township this fall cited the farm, located at located at 6 Mile and Curtis roads, for a number of safety violations, it never ordered the operation to close its doors, said Ed Plato, township attorney.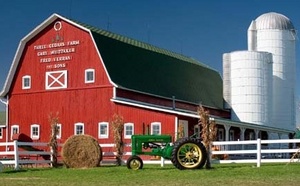 From Facebook
In a letter posted on their website, owners
Gary and Sherry Whittaker
said they were forced to cancel this year's Three Cedars Country Christmas to focus on the legal issues.
"Unfortunately, the legal process is a slow one that requires our involvement. The time and energy that we must invest in fighting to preserve our right to operate Three Cedars Farm has prevented us from being able to prepare the farm for Christmas," the letter said.
While the township cited the farm for safety violations, it never issued red tags to close it down, Plato said. Three Cedars Farm is open seasonally and offers you-pick pumpkins, a corn maze, a country store, a doughnut hut, a barn yard playground, hayrides and bonfires in the fall and Christmas trees, wreaths and visits with Santa Claus in the winter.
"Unfortunately, there's apparently been a campaign to make the public officials of Salem Township look bad," Plato said "The township did not say they could not be open for the Christmas season…. They could open tomorrow if they want. They voluntarily closed."
The Whittackers could not immediately be reached for comment.
The operation was inspected Sept. 9 when it opened for the season, Plato said. There were a number of safety violations, including exposed outlets in the children's play area, exterior lights that were not rated for outdoor use, a furnace that was not properly vented and extension cords that were trip hazards. Plato said the township was not allowed on the property for re-inspection. "In spite of that, the township did not want to shut the business down," Plato said. "They understand it's a popular place."
In the Sept. 9 letter, Holly Battersby, the assistant township attorney, advised the Whittakers to cease commercial activity until the structures were re-inspected. But Three Cedars Farm operated for the fall season, Plato said. "He (Gary Whittaker) said he would address the safety issues and we took him at his word," Plato said. "We were trying to work with him. But we wanted to impress upon him the seriousness of the issues that needed to be addressed."
In addition to the safety violations, zoning has become an issue over time, Plato said. When Three Cedars Farm opened nine years ago, it was a small operation and allowed under the state's Right to Farm Act, Plato said. But since then, it has grown into a commercial venture, Plato said. "There are hundreds of cars and thousands of people there on a given day. It's not a little mom and pop fruit stand."
The Whittakers need to scale back their operation or apply to have the land re-zoned commercial, Plato said. Still, the township does not want to close the operation. "If the township wanted to, they could have. But they want to work with him."