Posted on
Thu, Nov 8, 2012 : 9:16 a.m.
Former girlfriend of Saline MSU student testifies he grabbed, tried to choke her
By Cindy Heflin
The former girlfriend of Brandon Carmack testified Wednesday the Saline resident grabbed her by the neck at a gathering on Aug. 28 and tried to choke her until Michigan State University hockey players and others intervened.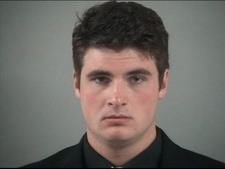 East Lansing Police Department
Carmack, an MSU student,
initially claimed that hockey players beat him up
at the gathering, but police later alleged he was the aggressor and he was charged with assault and battery and filing a false police report.
"He directly marched toward me, grabbed me by the arm and said, 'You're coming with me,'" Carmack's former girlfriend testified at the hearing. "He was very frantic, very angry, very emotional. He was very intoxicated, dripping with sweat."
Carmack is charged with two counts of assault and battery, misdemeanors punishable by up to 93 days in jail and a $500 fine; domestic assault and battery, which carries the same penalties as assault and battery; filing a false police report of a felony, a felony punishable by up to four years imprisonment and a $2,000 fine; and stalking, a misdemeanor punishable by up to a one-year jail term and a $1,000 fine.
Hockey players also testified at the hearing Wednesday, alleging Carmack was combative and assaulted them when they tried to make sure he left the gathering.