Posted on
Wed, Nov 30, 2011 : 9:21 a.m.
Benito's Pizza in Saline holding fundraiser for Caulk family
By Julie Baker
Benito's Pizza is hoping the community will show its support for a local family that's been struck with tragedy twice in recent weeks when it holds a fundraiser on Tuesday.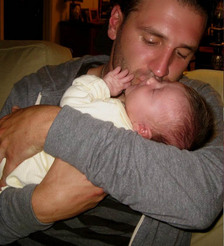 Courtesy of Allyssa Caulk
The fundraiser will benefit the family of
Jamie Caulk
and his 11-week-old niece
Lillian Caulk
. Jamie Caulk, 27,
was in a car crash Oct. 14
and died the following week after a massive trauma-induced stroke that affected his brain stem. He was a graduate of Father Gabriel Richard High School in Ann Arbor and a student at Lee University in Cleveland, Tenn.
Lillian died unexpectedly Nov. 19 at her Ann Arbor home. The family is awaiting the results of an autopsy, although it may take eight to 10 weeks.
Nick Wallen, owner of Benito's, said he and many of his employees went to school with members of the Caulk family in Saline, and the small community has been saddened to hear of Jamie and Lillian's deaths.
"They had a pretty big family. A lot of people knew them," he said of the Caulks.
Wallen said Benito's is in a unique position to help out, and he's expecting the community to rally around the family.
Benito's, 439 E. Michigan Ave. in Saline, will donate 20 percent of daily sales made on Tuesday to the Caulk family, and donation jars will be available for those wishing to make a cash donation. Gift certificates and rain checks also will be offered for those who wish to help.
The pizzeria held a fundraiser in conjunction with Saline schools in the spring, and Wallen said they were overwhelmed by how much people came out with their support.
"We just want them to know everyone's here and thinking about them," he said. "Every little bit helps."
Contact Benito's Pizza at 734-429-2555.