Posted on
Fri, Oct 21, 2011 : 5:15 p.m.
Family, friends remember Saline native who died after crash in Tennessee
By Julie Baker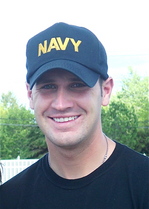 Jamie Caulk
was blessed with many talents: He was athletic, musically inclined and could make anyone laugh, his sister said.
Caulk, 27, a graduate of Gabriel Richard High School in Ann Arbor, died Thursday following a massive trauma-induced stroke that affected his brain stem, said his sister, Christa Caulk Stewart.
Caulk, a senior at Lee University in Cleveland, Tenn., was critically injured in a car crash Oct. 14 outside of Nashville, Tenn.
Stewart, his older sister, said his injuries were complicated by a condition with which he was born. She said doctors told their family when they arrived at the Vanderbilt University Medical Center that there was nothing they could do because there was so much damage and no brain activity.
"We just kept asking for a miracle," Stewart said, adding that pastors from places from as far away as Florida showed up at the hospital to pray with the family. She said about 20 students from Lee University also came to the hospital, remaining in the chapel to pray for Caulk.
Caulk, a Saline native, had served in the U.S. Navy in the "Seabee" construction battalion. He rededicated his life to serving God last year, Stewart said. He died surrounded by his family.
"It was time for him to go home," she said. "He was with his family, and we told him it was OK to go."
In addition to Stewart, of Ann Arbor, Caulk is survived by his parents, Michael and Missy Caulk, and three other siblings — Matthew, Andrew and Allyssa.
Stewart said her family is close, talking as often as possible and attending University of Michigan football games together over the years. She said she felt blessed to have attended one last game with her brother about a month ago.
Music was a big part of Caulk's life. Stewart said her brother taught himself to play the piano and the guitar and would write and record himself performing worship music. She said his funeral will feature a video of him performing.
Stewart said her brother's dream job was to work as a sports broadcaster for ESPN — a goal she said didn't seem far off given his determination.
Caulk was recruited to play football at Adrian College before he decided to pursue a career in broadcasting at Lee, where he was the multimedia editor for the student newspaper. Stewart said he was applying for internships in an effort to reach his goal.
"He was just so charismatic," Stewart said. "He was literally the funniest person I've ever met in my entire life."
She said people were drawn to her brother, who loved to make everyone laugh and smile. "He would sit and talk to you for hours," she said.
Stewart said that so many people were praying for him is a true testament to who he was. Hundreds of people have joined a Facebook group dedicated to his life.
"He was that guy that every girl wanted to date and marry," she said. "He just loved to make people happy."
Visitation will be from 5 to 8 p.m. Monday at United Methodist Church in Saline and from 11 a.m. to 1 p.m. Tuesday. A celebration of life service will follow at 1 p.m.
You can see a video of Caulk singing and playing a keyboard below:
Jamie Caulk - Holding On from Matthew Caulk on Vimeo.