Posted on
Wed, Sep 26, 2012 : 7:47 a.m.
Hearings delayed for MSU student from Saline who said hockey players beat him
By Cindy Heflin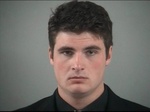 East Lansing Police Department
Court hearings were postponed Tuesday in the case of the Michigan State University student from Saline who
accused the MSU hockey team
of beating him and then was accused of
assaulting his ex-girlfriend
, MLive
reported.
Brandon Carmack, 20, of Saline, had been scheduled to appear for a pretrial conference in East Lansing District Court on Tuesday and preliminary examination on Friday. But those proceedings were pushed back to Oct. 23 and Oct. 26, respectively, to allow for more time for the discovery phase of the case, according to the Ingham County Prosecutor's Office.
Carmack is accused of showing up at an East Lansing house the first week of classes looking for his ex-girlfriend, Lansing television station WILX reported. The woman said she was at a gathering there with roommates, friends and members of the MSU swim team. According to a personal protection order, the ex-girlfriend said Carmack was intoxicated, demanded to see her and barged into the house.
The woman said some men stepped in when Carmack grabbed her by the neck and tried choking her, WILX reported.
Carmack was charged with on two counts of assault and battery, domestic assault and battery, filing a false police report of a felony and stalking.
In late August, Carmack alleged he was beaten, stabbed in the head and arm and left with a broken nose and broken ribs and blamed MSU hockey players.
Stuart Dunnings, Ingham County prosecutor, told television station WLNS that Carmack's story was "ridiculous" and that hockey players are named as victims in the complaint against Carmack.