Posted on
Sun, Jan 22, 2012 : 11:08 a.m.
Retired Saline Police Chief Paul Bunten to be honored by City Council Monday night
By Lisa Allmendinger
Residents have another chance to congratulate retired Saline Police Chief Paul Bunten, who will be honored with a watch and proclamation for his 47 years of law enforcement service to start off Monday night's City Council meeting.
Bunten spent the last 17 years spent in the city,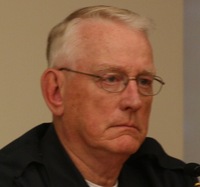 Also on the agenda are updates on the city's Arts and Culture Committee as well as plans for the Jan. 28 second
Winterfest
event in downtown, which includes a snowman-building contest.
In a light agenda, the City Council will discuss a report from Nancy Crisp, market manager for the Saline Farmers' Markets, and receive final budget numbers for the three markets held in 2011, all of which finished in the black.
The City Council is expected to vote on the about $660,000 Woodland Drive street project and a contract between the city and the Michigan Department of transportation. The reconstruction project is planned for this summer and is a reconstruction of Woodland Drive from Maple Road to Industrial Drive.
The city is expected to receive grant funding of up to $375,000, while the city is estimating its costs to be about $285,000. By utilizing city staff for some aspects of the project, such as inspection, record keeping, testing and contract administration, the city is expected to save about $75,000, including about $25,000 in state administration costs, according to a memo from Gary Roubal, city superintendent and city engineer.
The City Council meets at 7:30 p.m. at City Hall, 100 N. Harris St.
For more Saline stories, visit our Saline page.