Posted on
Sun, Jan 1, 2012 : 10:01 a.m.
Bring on the snow: Saline readies for Winterfest to defend snowman-building championship title
By Lisa Allmendinger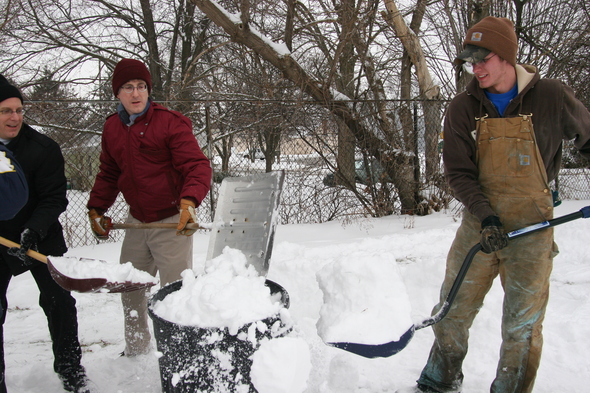 Courtesy photo | For AnnArbor.com
Ice dancing, sled dog demonstrations, ice carving, and snowman making and decorating are just a few of the winter activities that will mark
Saline
's second
Winterfest
.
Art Trapp, the city's downtown development director, is looking for 50 people to compete for two hours as snowman builders when the city plans to defend its title as champion of the Snowman Building Contest of the Free World.
The marquee event will take place on Henne Field on Jan. 28 from 1-3 p.m., and Saline officials are hoping that Mother Nature will bring enough of the white stuff to build as many 4-foot snowmen as possible.
Last year, Saline made 486 snowmen and defeated residents from St. Clair and Zeeland, cities of similar size, in a contest that was first dreamed up during a meeting of DDA directors from across the state, Trapp said.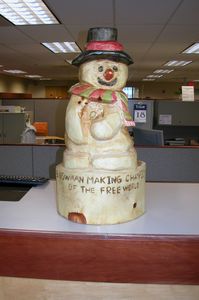 Courtesy photo | For AnnArbor.com
This year, the number of cities has expanded to include Zeeland, St. Clair, Douglas and Three Rivers - all cities with less than 10,000 residents.
"We have some new competition this year," Trapp said.
He's hoping for 10 teams of five members each to construct the snowmen from a 32-gallon trash can and a 20-gallon trash can filled with snow and a bucket full of snow for the head.
They are competing for an 18-inch wooden trophy that was carved by a member of an American Indian tribe.
Trapp says the trophy has been well traveled since it was captured last year. "It's like the Stanley Cup; it's been to 30-some places throughout the city," he said.
And, although there aren't any extra points for creativity when it comes to creating the snowmen, once the final count is in, there will be a new snowman-decorating contest this year that begins at 4 p.m.
Trapp hopes that individuals, families and businesses will take part in the fun contest.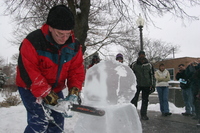 Courtesy photo | For AnnArbor.com
Three members of the Woodland Meadows art department will judge the contest, and Trapp said the city is looking for a "funky trophy" to award to the winner.
"The only rule for this contest is there's no rule," he said.
If you'd like to get some exercise before the festivities begin, there will be a 5K race sponsored by the teens at 5th Corner, which begins at 9:30 a.m.
Activities will take place downtown in the morning and the afternoon events will happen at Henne Field.
"We've been looking at having a winter event and we think this will be really fun the only thing will be the weather; it's hard to plan for that," said Gretchen Driskell, Saline's mayor, said previously. For a complete list of events, click here.
Lisa Allmendinger is a reporter with AnnArbor.com. She can be reached at lisaallmendinger@annarbor.com. For more Saline stories, visit our Saline page.