Saline Area Schools support staff: Don't privatize us
Posted on Wed, Jun 13, 2012 : 5:57 a.m.
Previous coverage: Saline Area Schools faces budget deficit for upcoming school year
"Don't privatize us."
It was the message Saline Area Schools' support staff had for members of the administration and Board of Education Tuesday.
With its contract expiration date looming, the Saline Education Support Personnel labor union showed up in force to beg leaders for an end to the negotiations and not to privatize their services.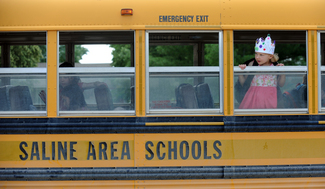 AnnArbor.com file photo
Of the approximately 115 audience members at Tuesday's school board meeting, the majority was dressed in red T-shirts showing support for the SESP.
Saline's three collective bargaining units — the SESP, Saline Education Association and Saline Area Schools Administrators Association — all have contracts that expire June 30.
The SESP is comprised largely of bus drivers, custodians, secretaries and office staff. These employees are primarily who spoke Tuesday during public comment.
Several union members expressed their dissatisfaction with how long the negotiations have been taking.
District administrators entered into contract discussions with all three unions prior to December 2011. The discussions will need to be finalized prior to the June 26 board meeting, when the district will present and potentially vote on its 2012-13 budget.
Eileen Owen, an employee at the high school, said every year the support staff is "in the same boat."
"We are asked to give more and more … with the hope that next year, someone is going to remember who made all these sacrifices," she said, adding last year the board praised the staff for its concessions.
"The only time we feel you appreciate the work that we do is when we are willing to do it for less and less."
A lack of respect was what employee Linda Downie called it. She said the staff recognizes the tough financial situation the district is in, but to be presented with "the choice of privatization or huge nebulous cuts in pay, benefits, sick days perhaps — it feels like we are being threatened.
"I would look for a little more give and take in the language between us… More show of respect," Downie said. "These are the careers we've chosen… Some of the people in this room have worked for more than two decades for the schools. It's not just mad money we put away or vacation money, this is how we pay our mortgages."
Superintendent Scot Graden declined to address employees' concerns about privatization, saying the district does not comment on ongoing negotiations.
Saline Area Schools is facing, best-case scenario, a $1.7 million structural deficit and a $375,000 fund-balance deficit for the 2012-13 school year, based on revenue coming in $390,000 less than current-year projections and an estimated loss of 71 pupils for 2012-13.
The district's worst-case scenario would occur if the State Legislature takes no action on Senate Bill 1040, which would revise how the pension program through the Michigan Public School Employees Retirement System (MPSERS) is funded.
If the MPSERS reform does not pass and school districts' retirement contribution rates increase from about 24 percent to about 27 percent, as they are intended to, Saline would face a structural deficit of about $2.7 million and a fund balance deficit of about $1.2 million, said Saline Interim Finance Director Janice Warner.
Warner said Saline has just slightly more than $1 million in its fund balance.
At a February board meeting, Graden said when it comes to looking at ways to cut expenses, personnel is the "largest piece of the pie." He estimated about 85 percent of the district's general fund budget is for staff.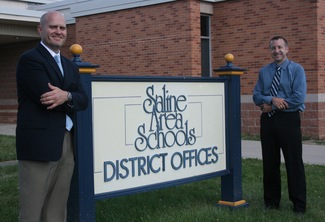 AnnArbor.com file photo
Throughout the next week, Saline Area Schools administration will continue to finalize the 2012-13 budget and to develop options for the board to consider to potentially reduce expenditures and increase revenues, Warner said. These options will be presented on June 26. A public hearing will follow the budget presentation.
Graden said he could not comment on how staff layoffs, privatization or other employee-related concessions might come into play because of the ongoing union negotiations.
The contract renewals have impacted the 2012-13 budget process, he said, explaining in a typical year, Saline would have had a public forum or two to discuss possible reductions for fall already.
Saline Education Association president Juan Lauchu asked his district to carefully consider the level of care that could be lost in privatization.
"Support staff are our neighbors. How would … selling the service to the lowest bidder … (bringing in a set of strangers) increase care?" Lauchu said. "…Teachers work together every day with the support staff to bring forth the quality education that is expected from the community surrounding this school."
Frank Carey, a bus driver for Saline schools, echoed Lauchu's thoughts and emphasized the importance of positive interactions in shaping children's development.
He said if the typical kindergartener currently spends three to four hours in the classroom and an hour getting there on the bus, about a third of their school day is spent with a bus driver.
"If you take away one-third of their day and give them over to a stranger, possibly someone from outside of the district that is just here for a job, to drive that bus from Point A to Point B for a paycheck … those kids lose one-third of their interactions with humanity," Carey said. "With someone they're going to see at the grocery story or when they're at Saline's parades in town. All that means a lot when these kids are being raised."
High School Counselor Kathy Mussio also asked the board to reconsider privatization. She said the high school front office staff is a "well-oiled machine."
"Replacing it with people that do not have the knowledge or the background or the history could make that machine fall apart," she said.
The regular Saline Area Schools Board of Education meeting June 26 will begin at 6:30 p.m. at the Liberty School Media Center, 7265 Saline-Ann Arbor Road.
The board has until June 30 to pass a balanced budget to comply with state law.
Staff reporter Danielle Arndt covers K-12 education for AnnArbor.com. Follow her on Twitter @DanielleArndt or email her at daniellearndt@annarbor.com.