Posted on
Sat, Jan 29, 2011 : 7:46 p.m.
Saline team builds 486 snowmen to capture trophy at inaugural Winterfest
By Lisa Allmendinger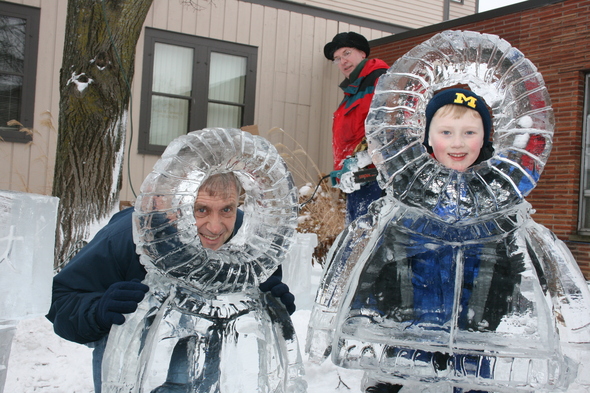 Lisa Allmendinger | AnnArbor.com
Saline residents Tommy Hamann, 7, and his grandfather, Tom McCartney, were just two of the 50 people who helped the city lay claim to victory in the first Snowman Building Championship of the Free World this afternoon during the city's inaugural Winterfest.
But before the afternoon competition on Henne Field began, Hamann watched a skating exhibition, met a mascot, and watched an art carver work.
"I drank four cups of hot chocolate," Hamann said.
For the competition, about 50 residents each from St. Clair, Zeeland and Saline built as many 4-foot tall snowmen as possible in a two-hour period. St. Clair made 113 snowmen, while Zeeland made 268, said Art Trapp Saline's downtown development director.
Saline participants made 486 snowmen, more than the other two cities combined, to lay claim to an 18-inch carved wooden trophy.
"We had good snow and good people," Trapp said.
Participants of all ages filled 32-gallon and 20-gallon trash cans with shovels full of snow. Buckets of snow served as the snowmen's heads, and no extra points were given for creativity.
"You need a lot of friends and family to do this," said Joshua Baars, 8, of Saline who pitched in to help Sophie Woehlke, 6, Ella Woehlke, 8, Avery McClelland, 7, and their mom, Heidi McClelland build snowmen.
The five-member Girbach contingent, including Council Member Dean Girbach, Justin Berkley and Brian Girbach, made 120 4-foot snowmen — or one a minute — during the competition.
Henne Field drew a crowd throughout the day for both a skating and a dog sled exhibition.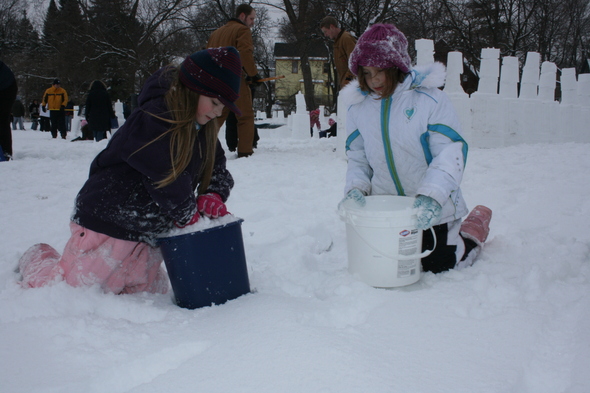 Lisa Allmendinger | AnnArbor.com
In addition, there was ice carving downtown by Saline resident Gary Marquardt, who said he got his start in the craft while working in a hotel.
"We had to carve three a week, whether we wanted to or not," he said — but carving in front of his hometown friends was a first.
There were kid's games and crafts, a snow mobile display, and a 5-K race, plus an opening ceremony.
"I think the community effort is really great," said Saline Mayor Gretchen Driskell. "We had a larger crowd than we expected, and a lot of people worked together to put on this event that had something for all ages from the wee ones to the older folks."
Lisa Allmendinger is a reporter with AnnArbor.com. She can be reached at lisaallmendinger@annarbor.com. For more Saline stories, visit our Saline page.