Posted on
Mon, Oct 17, 2011 : 5:06 p.m.
Saline Middle School vandals caught on camera, turned over to police
By Kyle Feldscher
Previous story: Vandals spray paint door and wall, break window at Saline Middle School
The two vandals who put paint on the door and walls of the main entryway and broke another window at Saline Middle School last night have been caught, according to the school's principal.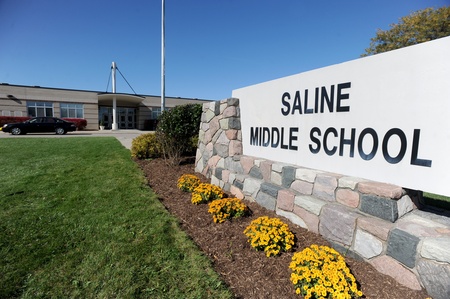 Saline Middle School principal David Raft said two juveniles have been turned over to the Saline Police Department after they were identified on motion-activated security cameras.
He said between the damage done to the school and the time it took maintenance personnel to clean up, the vandals had caused about $500 worth of damage to the school.
"There's motion-sensor cameras on the building and they walked right into it," Raft said.
Saline police Sgt. Jay Basso said police do have two suspects right now, but could not confirm that they were in custody. He said police could not release more information because the case is still open.
A Saline Police Department report stated the incident occurred between 9 p.m. Sunday and 6:15 a.m. Monday. The report stated paint had been sprayed on the door and wall of the east entrance to the school, two small pine trees were uprooted and placed in front of the doors and a large tan planter containing a yellow mum plant was overturned. Parts of the mum plant were stuck into the door handles, the report stated.
Raft said the vandals used a paintball grenade launcher to shoot paint onto the building. The paint was not overly difficult to remove and was gone by the time classes began Monday morning.
The vandals also threw a brick through a door window in the south entrance to the building, according to the report. Raft said a new window had been put into the door by 10 a.m. Monday.
"I don't think anyone could tell (there had been an incident)," Raft said. "Our grounds guys did an outstanding job and our lead custodian was amazing, he got right on it."
Kyle Feldscher covers cops and courts for AnnArbor.com. He can be reached at kylefeldscher@annarbor.com or you can follow him on Twitter.