Posted on
Mon, Nov 26, 2012 : 3:10 p.m.
Saline MSU student ordered to trial on charges of assault, filing false police report
By Cindy Heflin
The Michigan State University student from Saline accused of filing a false police report and stalking and assaulting his girlfriend was ordered Monday to stand trial, MLive reported.
Brandon Carmack, 20, of Saline, on Monday waived preliminary examination in an East Lansing court, binding his case over to Ingham County Circuit Court for trial.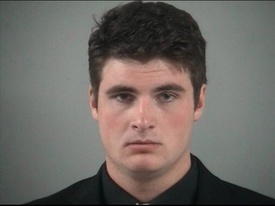 East Lansing Police Department
Carmack is charged with two counts of assault and battery, domestic assault and battery, filing a false police report of a felony and stalking. He also faces a new charge of first-degree home invasion, added Monday, MLive reported.
Carmack initially claimed that hockey players beat him up at a gathering in East Lansing, but police later alleged he was the aggressor and he was charged with assault and battery and filing a false police report.
Several MSU hockey players and other witnesses, including Carmack's ex-girlfriend, testified when his preliminary examination began on Nov. 7. The hearing was scheduled to resume Monday afternoon prior to Carmack's waiver.
His former girlfriend testified Carmack grabbed her by the neck at a gathering on Aug. 28 and tried to choke her until the hockey players and others intervened.
Hockey players alleged Carmack was combative and assaulted them when they tried to make sure he left the gathering.