Posted on
Wed, Apr 10, 2013 : 5:23 p.m.
Saline school board eliminates club fees but delays vote on pay-to-play for sports
By Danielle Arndt
Saline Area Schools' Board of Education voted Tuesday in favor of eliminating the district's $40 participation fee for clubs and other extracurricular activities, but delayed a vote on pay-to-play fees for athletics, said a report in the Saline Post.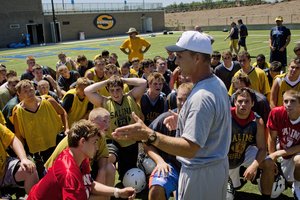 Jeffrey Smith | AnnArbor.com file photo
Saline officials began looking last fall at the district's $325 one-time fee to play high school sports to see how the increased fee was
affecting
participation rates. A study the district did showed fees at Saline have nearly tripled since the 2008-09 academic year, yet more students have been playing sports.
The cost of club sports, however, has continued to be a point of concern for many school board members. Club sports — such as lacrosse, hockey, crew and water polo — carry a higher price tag to participate and no price reductions for playing more than one. These sports are not supplemented by money from the general fund like varsity sports — such as basketball, baseball, football and volleyball — so parents and students foot the bill for coaching costs, uniforms, equipment needs and any travel or facility expenses.
District officials again reviewed Saline's fees at a board meeting March 26. At that time, the board asked Superintendent Scot Graden to make a formal recommendation at its April 9 meeting.
According to the Post, at Tuesday's regular school board meeting, Graden recommended that the board not change pay-to-participate fees for athletics in the same motion that he recommended abolishing the $40 fee for after-school clubs and organizations.
School trustees decided to discuss the athletic fees more at the board's upcoming policy committee and consider action again at the first meeting in May, the Post says.
Danielle Arndt covers K-12 education for AnnArbor.com. Follow her on Twitter @DanielleArndt or email her at daniellearndt@annarbor.com.