Posted on
Tue, Mar 26, 2013 : 5:58 a.m.
Saline school board to weigh athletic fees and evaluate superintendent Scot Graden on Tuesday
By Danielle Arndt
The Saline Area Schools Board of Education will evaluate Superintendent Scot Graden's performance and discuss changing pay-to-participate fees for athletics Tuesday.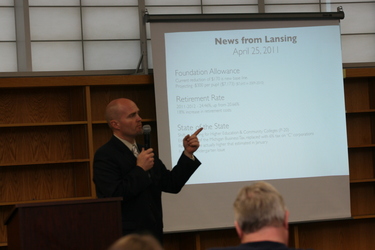 Lisa Allmendinger | AnnArbor.com file photo
The regular school board meeting begins at 6:30 p.m. at Liberty School. Graden's evaluation will take place in closed session at the end of the meeting.
Saline conducts quarterly reviews of its superintendent. The board generally releases a statement after the evaluation.
In November, Graden was given a performance rating of "effective" on a scale from "ineffective" to "highly effective." School board members also discussed Graden's salary and contract length at that time. They directed Saline's human resources department to research the superintendent compensation packages of other comparable school districts and to prepare a market analysis for the board.
Graden earns an annual salary of $125,000 and a total compensation package worth $188,578. The package includes a $34,244 pension, $6,000 travel allowance, $6,500 other allowance and $19,828 in insurance benefits, according to a recent statewide superintendent database.
Saline is the second-largest school district in Washtenaw County, behind Ann Arbor, with approximately 5,330 students. Graden's base salary is the fourth lowest in the county.
The discussion about athletics and activity pay-to-participate fees will take place as the district prepares to address its budget woes for fiscal year 2014, according to a story by the Saline Post.
The Post writes Saline officials project to lose $187,000 in per-pupil funding for the 2013-14 academic year as the result of a state funding cut for Gov. Rick Snyder's "best practice" incentives.
Officials also estimate the district's enrollment will decline by 70 students, which would cost the district another $517,000, the Post article says.
Saline Area Schools play-to-participate fees are $325 per student at the high school this year. This is a one-time payment and then students may take part in as many sports and clubs as they would like.
Saline's participation fee is one of the highest in the county. Chelsea School District recently eliminated its pay-to-play fee, while Dexter Community Schools raised its fees to $250 for the first sport, $150 for the second sport and $100 for the third sport. Ann Arbor charges high school students $150 for the first sport and $75 for each sport after that.
Danielle Arndt covers K-12 education for AnnArbor.com. Follow her on Twitter @DanielleArndt or email her at daniellearndt@annarbor.com.