Scarlett Middle School heat issue fixed; memorial celebration for Scott Turner still on
Posted on Tue, Jan 22, 2013 : 12:26 p.m.
Previous coverage:

A malfunctioning boiler that caused Ann Arbor's Scarlett Middle School to close Tuesday has been repaired, school officials said.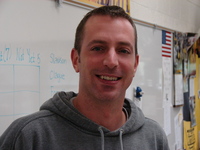 From A2schools.org
The memorial service being planned for
Scott Turner
, a longtime Scarlett math teacher who
died last week
after battling esophageal cancer, will take place as scheduled at 6 p.m.
District spokeswoman Liz Margolis said a notification will be sent out to the Scarlett community Tuesday afternoon.
There will be food at the memorial event and a formal program will begin at 6:30 p.m. Several Ann Arbor Public Schools students and employees are scheduled to speak.
The community will hear from a group of Turner's former students, Scarlett social studies teacher Rob Buchholz, former Assistant Principal Bill Harris, Roberto Clemente Student Development Center Principal Ben Edmondson, current Scarlett Principal Gerald Vazquez and Superintendent Patricia Green. Turner's mother, Sharon Turner, also plans to make a few remarks.
Some of the plans still are being finalized, organizers said. The memorial celebration will be in the school's auditorium, 3300 Lorraine St.