Posted on
Sat, Sep 8, 2012 : 6:30 p.m.
Scenes from Michigan Stadium where it's not not all about the game on the field
By Ben Freed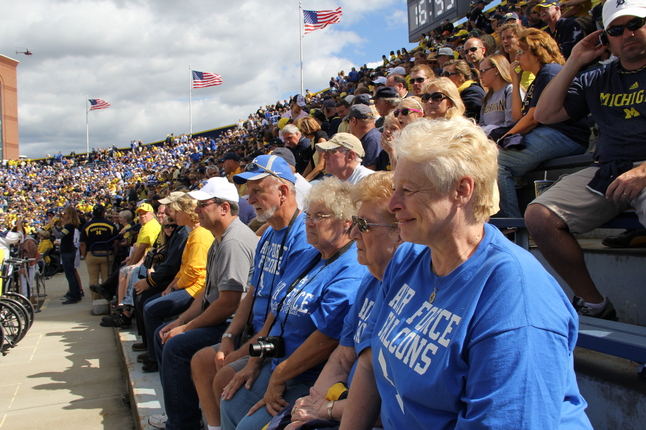 Ben Freed | AnnArbor.com
The Dreslinski family is scattered across Michigan and was at the Big House in-force on Saturday, but they were wearing a lighter shade of blue than many would have expected. Nate Dreslinski is a tight end for the Air Force Academy and his grandmother, Marsha Dreslinski, estimated that he had at least 40 friends and family in attendance for his appearance at Michigan Stadium.
"This is actually my first time coming to a football game at Michigan Stadium. I hate football, unless my kids or grandkids are playing," Marsha Dreslinski said.
Marsha's mother-in-law Stella Dreslinski has been coming to Michigan games since 1945 and has been a season ticket holder since the 1970s. She was in Air Force blue along with the rest of the family, but the jacket she held on her lap was maize and blue. Inside the jacket was the hat her late husband, Nate's great-grandfather, used to wear at football games.
As the players came out for their pre-game warm-ups, all eyes were glued on number 88.
Showing up for kickoff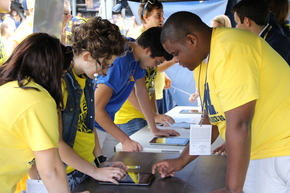 Ben Freed | AnnArbor.com
Michigan students are often criticized for showing up late to football games. In years past a half-empty student section has not been an uncommon sight in the first half. This year, a
new loyalty program
called "
HAIL
" rewards students for showing up early to football, basketball, and hockey games and for coming to non-revenue sporting events.
The student section was mostly full today 10 minutes before kick-off and the new program may have been one of the causes. Of 20 students I spoke to who showed up over half an hour before kick-off, only two had heard of the loyalty program and only one had actually checked in. However, at a booth near the entry gate outside the student section there was a steady crowd of 15-20 people at a table with iPods checking in using the new system.
Students get two points for checking in 20 minutes or more before kick-off and one point for any time after. Points can be redeemed for prizes that range from t-shirts and free pizza to a free round-trip flight.
Taking a break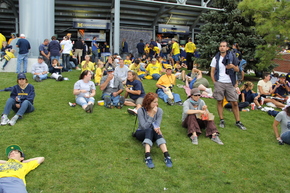 Ben Freed | AnnArbor.com
While there is a game going on inside Michigan Stadium, some people prefer watching some of the other 100,000 or so fans who pack the stadium. Grassy knolls throughout the stadium grounds are always crowded with people taking a break from the excitement on the field.
"I just like to people-watch out here," Andrea Summerfield said. "It's fun, you can see people you know, socialize. I've spent about half my time here and half in my seat."
Other fans, like Novi High School students Ian Tecklenburg and Kocen Cook, come outside during halftime for a break from the sometimes uncomfortable back-less seats in the stands.
Slinging popcorn for the good of the band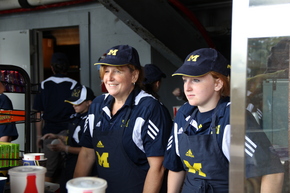 Ben Freed | AnnArbor.com
Working at the concession stands at the Big House can be a thankless job, especially when you aren't getting paid. Most concession stands at Michigan Stadium are staffed by volunteers from various teams and organizations who work in return for a donation of 10 percent of the profits from their station.
Lindsey Baker, a freshman at John Glenn High School in Westland, is in the color guard and volunteered to work the game with other marching band members.
"It's not exactly mandatory, but it's great to be here and help out and be a team," she said.
"There are probably about 20 of us here today, including some parents who came to help us out."
Baker said it can sometimes be a lot of work keeping up with Michigan fans' appetites, but it's been worth it.
Ben Freed covers business for AnnArbor.com. Reach him at 734-623-2528 or email him at benfreed@annarbor.com. Follow him on twitter @BFreedinA2