Posted on
Wed, Sep 11, 2013 : 5:59 a.m.
Scio holding final public input hearing on township-funded road repair
By Ben Freed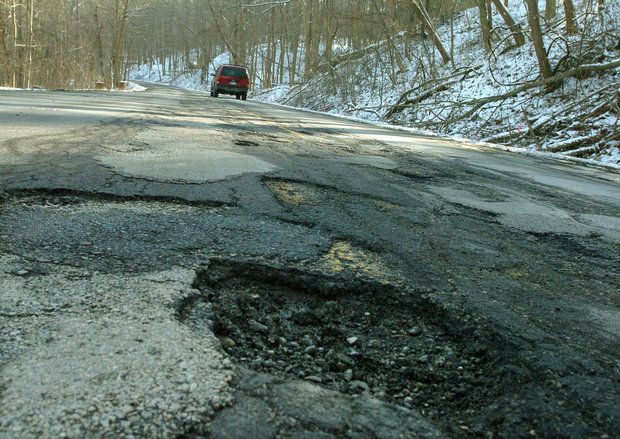 Repairs on local roads in Scio Township could be funded by a township-wide special assessment district. (Ann Arbor News file photo)
Scio Township
will hold the second of two public input hearings Thursday to discuss a plan that would
create a Special Assessment District (SAD) to improve the township's roads
.
The plan calls for an $85 fee per parcel to be assessed on all land in the township for the next 10 years.
Some residential and business neighborhoods in the township have already established their own SADs to improve road conditions, but according to a newsletter circulated in the spring, 25.3 out of 25.9 miles of "connector" or "orphan" roads in the township were in poor or failed condition at last inspection.
These connecting roads are not covered by the smaller SADs and are only eligible for state distributions that cover routine maintenance such as snow plowing and gravel grading.
According to the newsletter, The assessment would raise approximately $500,000 per year and would provide funds for the upgrading of connector roads as well as cash grants to neighborhoods that have used their own funds to update internal roads.
"The local roads committee has been in existence for a number of years and we have really been mulling over and talking about how can we raise funds to improve the secondary roads in the township," township clerk Nancy Hedberg said. "It's the ones that are all the connectors that are the issues."
"This isn't something that voters across the township will approve, because it's not a millage," she said. "This is just a flat $85 per parcel."
If the plan is approved, phase one calls for a basic upgrade of 6 inches of new road gravel or limestone to approximately 25 miles of unpaved roads in the township. Phase two would include the paving of North Delhi Road from Huron River Drive to Eastgate Drive.
Hedberg said the Board of Trustees could decide to vote on the proposed special assessment district at Thursday night's meeting, but will more likely wait until their next scheduled meeting on September 24.
The public hearing meeting will be held at 7 p.m. Thursday at the Washtenaw Intermediate School District building at 1819 Wagner Road.
Ben Freed covers business for The Ann Arbor News. Email him at benfreed@annarbor.com and follow him on twitter at @BFreedinA2