Posted on
Sun, Mar 6, 2011 : 4:05 p.m.
Season climbs to fifth snowiest on record, with Ann Arbor area more than 20 inches above average
By Kelly Davenport
As the snow banks edge up, so does this year's place in the weather record books.
You may be tempted to hold your applause.
This season is now the fifth snowiest on record since 1880, Dennis Kahlbaum, a weather observer for the University of Michigan, said Sunday.
The weekend's 4.5 inches of accumulation puts the season's total at 21.2 inches above average, with 64.7 inches of snow recorded since July 1, 2010. The recording period for the year runs until June 30, 2011, Kahlbaum said.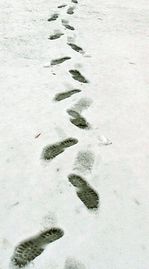 Meanwhile, February finished up as the second snowiest February on record, receiving 28.8 inches.
The 2007-2008 season remains the record-holder, with a total of 89.8 inches of snow. By March 6 of that season, 76.4 inches had dumped on the Ann Arbor area.
Despite the snowfall and ice Saturday night, Washtenaw County dispatchers reported no serious accidents as of Sunday afternoon.
The National Weather Service's forecast calls for a mix of snow and rain throughout the week, with highs into the 40s.
Stay up-to-date at AnnArbor.com's weather page.