Posted on
Mon, Feb 21, 2011 : 5:37 p.m.
2010-2011 season the eighth snowiest on record so far for Ann Arbor area
By Juliana Keeping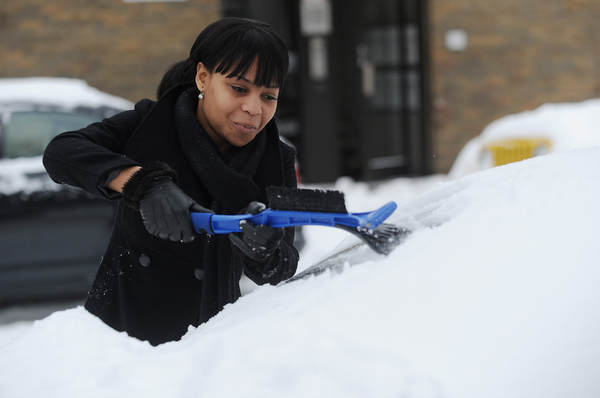 Melanie Maxwell | AnnArbor.com
This snow season is the eighth snowiest so far for the region since 1880, according to Dennis Kahlbaum, weather observer for the University of Michigan. So far, the Ann Arbor area has received 54.3 inches of snow, compared to an average year of 38.9 inches for this point in the year.
About 51 inches of snow falls during an average snow season in and around Ann Arbor.
The total accumulation this year is creeping up on recent records for total snowfall in a year, but Mother Nature still has a way to go to beat the last record of 89.8 inches, set in 2008.
It could happen.
"We're way above normal," Kahlbaum said, explaining that meteorologists track snow on a June-to-July cycle.
And more snow could be on the way today.
Following 9.5 inches that came down locally between Sunday afternoon and this morning, the National Weather Service reported that up to 2 inches of snow could fall this afternoon in Washtenaw and Wayne counties — just in time for the afternoon commute.
A Washtenaw County dispatcher said at 4:30 that there had been a few minor accidents but nothing serious.
Meanwhile in Ann Arbor, trucks mobilized to clear the roads, and crews will be working overnight.
A city staffer who answered Ann Arbor's "Snow Desk" said 94 miles of major streets were cleared as of 4 p.m. Monday. Now, snow plows will work to clear 200 miles of residential streets, starting with those scheduled for Tuesday trash pickup.
Ann Arbor residents with questions about snow removal can call 734-794-6367 or visit the city's snow removal website.
How was your commute following the winter storm? Are you steeling your nerves for the ride home? Leave a comment below.
Juliana Keeping is a health and environment reporter for AnnArbor.com. Reach her at julianakeeping@annarbor.com or 734-623-2528. Follow Juliana Keeping on Twitter