Posted on
Thu, Aug 4, 2011 : 7 a.m.
Extra security added outside Ann Arbor parking structure in wake of assaults on women
By Heidi Fenton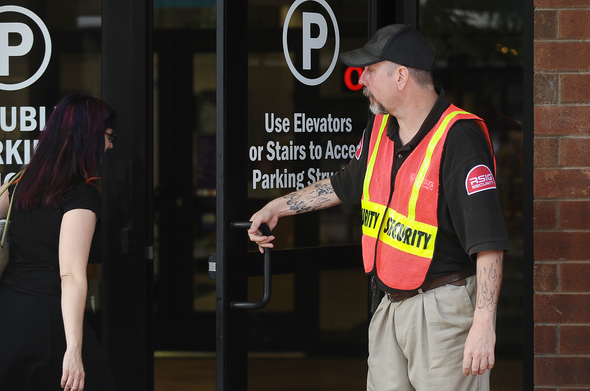 Melanie Maxwell | AnnArbor.com
As Ann Arbor Police continue to investigate six recent assaults on women in the city, private security guards have taken up posts outside the Liberty Square parking structure.
That structure— where a woman was raped July 18 inside an elevator — has reserved parking spaces for many downtown employees, including those who work inside the McKinley Towne Centre at East Liberty and Division streets. The centre houses Google, Ann Arbor SPARK, the Bodman law offices, and several restaurants, including Bar Louie, which is open daily until 2 a.m.
McKinley is paying for the added security.
The parking area, with an auto entrance on east Washington Street and pedestrian entrances on Washington and Liberty streets, is owned by the city, and the Downtown Development Authority contracts management to Republic Parking. A lower level retail space is owned by McKinley Inc., which also owns the nearby retail center.
Tom Gritter, McKinley's vice president and managing director of commercial real estate, said one security guard was added to walk around the Liberty Square structure a year ago, to make sure employees in the nearby Towne Center felt safe before and after work.
Last week, a second person was added after word spread of an assault in the structure, he said.
The guards are from the private company RSIG Security and remain stationed by the structure's Liberty Street and Washington Street entrances and around the structure from 6 a.m. to 9 a.m. and 5 p.m. to 11 p.m. Monday through Friday.
The six assaults on women occurred between 10 p.m. and 2 a.m. and July 26. Two of the women were raped.
"We just want to make sure people feel comfortable and help them through what we're dealing with right now," Gritter said.
Many who park in the garage say the extra security has been a relief amid a period of uncertainty in the city. Police have received more than 500 tips of possible suspects in the recent assaults, but have yet to make an arrest.
"For someone who drives to work alone, I think it's great," said Maria Feldman, 25, who works downtown and parks in the garage regularly.
Feldman said she's relieved the attacks have happened during the summer, when extended daylight keeps her from leaving work in the dark. Still, she said, the idea of walking to her car alone makes her uneasy.
According to Joan Lowenstein, a member of the Downtown Development Authority board, Republic Parking employees patrol the city's garages regularly to clean and help enforce safety. The service does not staff security guards.
"There are just these pretty frequent tours by Republic Parking personnel," Lowenstein said. "They go and check each floor and that's been routine over the years. What they've done is just increased those tours (recently)."
Toby Wacker, who owns lab, a downtown coffee shop next to the parking structure's Liberty Street entrance, said he worries having outside security officers will perpetuate fear downtown. He acknowledged the concerns many have, but worries having guards near the garage will make some uneasy.
Erick Michael shared some of the same concerns as he sat outside an entrance to the structure on Wednesday.
"If we're going to catch a guy, he needs to not know what we're doing," Michael said, noting he worries that suspects would only head to other parts of the city.
Michael said he hoped to see undercover security officers in city garages, a move he thought would be more efficient.
"If you're really trying to prevent something, it's better to do it when people know they are not being watched," he said.
Heidi Fenton covers police and courts for AnnArbor.com. Reach her at heidifenton@annarbor.com or 734-623-4673. You also can follow her on Twitter or subscribe to AnnArbor.com's e-mail newsletters.