Posted on
Mon, Jan 9, 2012 : 12:55 p.m.
Car-semi truck crash seriously injures driver; partially shuts down freeway
By Cindy Heflin
Photo courtesy of Pittsfield Township Fire Department
A crash involving a car and semi tractor-trailer truck seriously injured a woman and partially shut down US-23 this afternoon.
The semi and the car both left the freeway near Packard Road and came to rest in a wooded area behind Home Depot on Carpenter Road, Pittsfield Township firefighters said.
Firefighters used extrication equipment to free the driver of the car, who was taken to an area hospital in serious condition. Pittsfield Township Fire Chief said the woman was conscious at the scene.
The crash caused extensive damage to both vehicles, firefighters said.
A dispatcher with the Washtenaw County sheriff's department said one lane of northbound US-23 and both ramps from Interstate 94 to US-23 north had also been closed.
Fuel and steel reinforcing rods or rebar had been spilled in the area, the dispatcher said.
The crash occurred shortly before 1 p.m.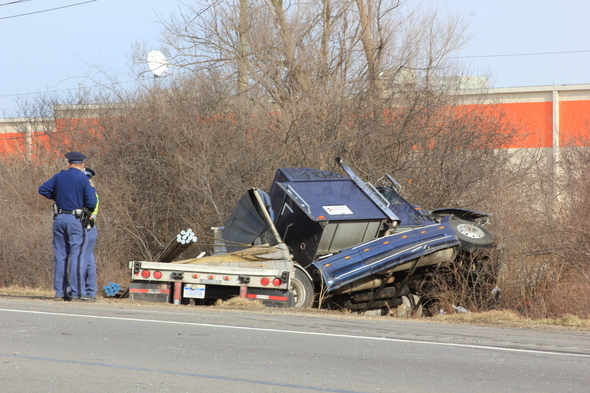 AnnArbor.com | Danny Shaw